Microsoft Lumia 1030 concept rendered, Windows 10 and 41 MP PureView camera included
33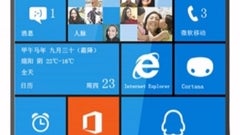 Last month, we told you that Microsoft was working on a
successor to the Lumia 1020
- which is seen by many as the best camera phone to date. While this successor may, or may not be called Lumia 1030, someone in China went ahead and created a Lumia 1030 concept design.
The maker of the Lumia 1030 concept envisions it as a high-end Windows 10 smartphone (of course,
Windows 10 won't be out
until mid/late 2015, and we hope that a Lumia 1020 successor will be released earlier than that). This imaginary Lumia 1030 proposes a 5.8-inch display with 1440 x 2560 pixels (Quad HD) - a considerable increase from the 4.5-inch, 768 x 1280 pixels screen of the Lumia 1020. On the back of the 1030 we have a 41 MP PureView camera with LED and Xenon flashes, while the front-facing camera is a 8.7 MP one. Other features: Snapdragon 805 processor, 3 GB of RAM, 32 GB / 64 GB of internal memory, and a generous 4300 mAh battery. The handset doesn't look too thin, but at least the bezels around the display are kept to a minimum.
Check out the Lumia 1030 concept in the slideshow below (there's even a video at the end) and let us know if you'd like to see something similar from Microsoft.