Microsoft's rumored McLaren 3D Touch-enabled device might have been canceled, too
37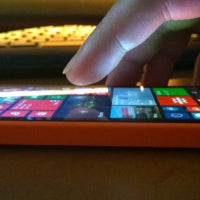 Do you remember the
batch of rumors that Microsoft's next Windows Phone flagship
, codenamed "McLaren", might come with a curious,
Kinect-like gesture input technology, dubbed 3D Touch
? Well, if you have been moderately excited about it, don't get your hopes up too much. The rumor mill states that said device might not see the light of day at all. Why? Well, as a part of its recent upheaval, Redmond might have canceled the purported McLaren device. The device was allegedly due out this fall.
Yesterday, it became clear that Microsoft will be
revamping some of its Android-powered devices
from the Nokia X family to Windows Phone ones. What's more, the tech giant is also said to
cease to support and development of Nokia Asha/Nokia Series 40
devices in the foreseeable future. While Microsoft's cuts most probably aim to slim down the fragmentation of its product line, so that the company could focus on the Windows Phone ones, the reasons behind the rumored freezing of the McLaren project are pretty vague. After all, if a Windows Phone flagship indeed comes with such a feature later this year, Redmond
might bring more bacon home, as it will surely distinguish the device from its worthy iOS and Android contenders.
Still, this doesn't mean that Microsoft won't announce a 3DTouch-enabled device sometime in the future (provided that the rumors regarding the McLaren were true in the first place, that is). Reportedly, the Kinect-like technology has been developed by Nokia for a number of years. After the Nokia-Microsoft merger, 3D Touch reportedly arrived at Redmond's research labs.
Maybe some of the 18,000 workers that
Microsoft is about to lay off
were working on the McLaren? Only time will tell.
source:
WPCentral
via
Neowin