The Galaxy S10's defining new feature is on $500 flagships already
80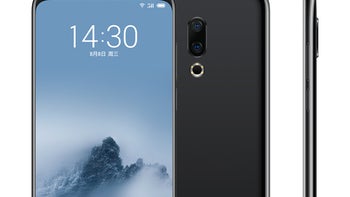 Samsung, thankfully, has way more
new features in store for the Galaxy S10
than an
in-display finger scanner
. It better, as these biometric identifications embedded in the phone display itself are not a novelty anymore and can be found in $400-$500 handsets like the
Mi 8
already.

In fact, one of the second-tier Chinese smartphone makers (in terms of sales, not handset quality) just announced its next flagships - the
Meizu 16 and 16 Plus
- and they both sport in-display finger scanners. The move has apparently freed a copious amount of space on the bottom bezel so it can be trimmed in a drastic manner. The top bezel underwent a similar and symmetric transformation, resulting in an "all screen" phones with huge displays.
When we say flagships, we mean it, as the Meizu 16 and 16 Plus come with Snapdragon 845 chipsets, 6/8GB RAM, and 64-256 GB storage in various combinations, depending on the price tag. That pricing starts from the equivalent of $400 for the 6GB/64GB model of the 6" Meizu 16, and goes "all the way" to $585 for the 6.5" Meizu 16 Plus with an 8GB/256GB memory combo.
A 20MP + 12MP dual camera adorns the back, offering 3x lossless zoom with the telephoto lens, and wide f/1.8 aperture, while a 20MP selfie cam with portrait mode is embedded in the top bezel. The new Meizu flagships have what seems to be an intriguing ring flash on the back, for more even illumination, which could prove to be another unique feature to add to their appeal.
The only ho-hum parts are the 3010mAh and 3640mAh battery capacities, but we'll have to wait and see how these dare before we pass any verdict on battery life. All in all, what analysts say will be the
defining feature
of the Galaxy S10 is already on $500 phones whose specs are nothing to sniff at, too. Samsung better come up with something more extraordinary to wow buyers of its anniversary S-line edition which will most likely be priced at $700+.