Legere: T-Mobile is on fire
21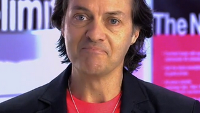 T-Mobile CEO John Legere continues to be the Pied Piper of wireless. With his casual attire, longish hair style, and wit, he offers quite a contrast to the executives running the other carriers, which is probably why he likes to go after them verbally. Thanks to Legere and his consumer friendly Uncarrier initatives, T-Mobile has become the "cool" carrier choice, even amongst the kids whose parents pay for their cell bills.
It would be one thing if Legere wasn't delivering results. Most boards, comprised of corporate oldtimers, would never put up with his schtick, much less understand it. But even the most conservative board member at T-Mobile cannot complain about the numbers being racked up by John Legere. On Friday, he said that in August, T-Mobile had the best month ever for adding net postpaid accounts. That figure came in at 552,000. Adding the 208,000 net new prepaid additions, T-Mobile overall added 760,000 net new accounts last month. That compares with a total of 672,000 net postpaid additions for the entire third quarter of 2013.
Legere says that 80% of T-Mobile customers are using its contract-free Simple Choice plans, a figure he sees rising to as high as 90% by the end of the year. Overall, he sees further growth ahead for T-Mobile, and would like to steal away another 5% in market share. The executive also said that he is flattered by the number of other companies that have expressed an interest in buying T-Mobile.
Sprint recently pulled away
after rumors of a merger between the two percolated for more than 6 months. French telecom Iliad, often compared to T-Mobile in its home country,
made a $15 billion bid for 56% of Legere's firm
, a bid rejected for being too low.
Dish Network is now rumored to be talking with T-Mobile
, and Legere expects even more companies to show an interest in the mobile operator. He sees T-Mobile joining up with another company as a partner, or as an acquisition target, in order to scale up. But there is no rush. "
We're playing from a position of strength
," Legere says.
source:
FierceWireless