CNBC reports that Sprint backs off T-Mobile deal; Hesse out as Sprint CEO
45
Something big is happening at Sprint. According to a tweet sent by CNBC's David Faber, the nation's third largest carrier has decided to abandon its pursuit of T-Mobile. Additionally, Faber reports that Dan Hesse will be replaced as CEO of Sprint, tomorrow. The shares of both companies have dropped sharply in response to the news, with T-Mobile down 6% to $31.85, and Sprint's shares off 2.5% to $7.10.
While Sprint never officially made a bid for its rival, it was believed that a deal had already been agreed upon, and would be announced next month. But apparently, SoftBank executives, including Sprint chairman Masayoshi Son, have come to the conclusion that it would be too hard to obtain regulatory approval for the deal. Both the FCC and the FTC have gone on record
as opposing a Sprint acquisition of T-Mobile
.
The timing of this announcement makes it interesting. Last week,
French telecom Iliad bid $15 billion for 56.6% of T-Mobile
. At the time, it was considered an inferior bid compared to the one that Sprint was expected to make public. Now that Sprint has backed away from T-Mobile, Iliad might be able to pull off what was seen as an improbable deal. The French telecom
is seeking partners in order to raise its bid
. Also, watch Dish Network. Chairman Charles Ergen has said that
Dish would be interested in T-Mobile, if Sprint were to back off
.
Meanwhile, we can only assume that Dan Hesse was considered to be too close to the T-Mobile bid, and might have been lobbying for it even after the decision was made to pull out. Because no official bid was ever made, T-Mobile will not receive a break-up fee
like it did when AT&T pulled out of its bid to buy T-Mobile in 2012
.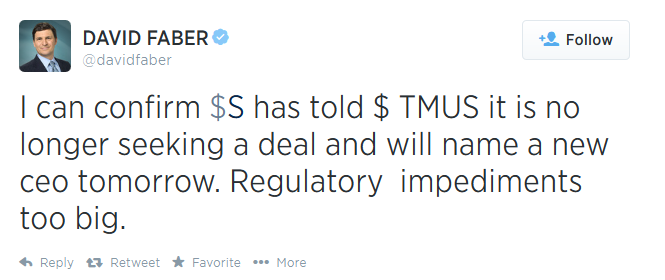 Tweet says Sprint is abandoning its deal for T-Mobile, and will replace Dan Hesse as CEO
source:
@davidfaber
,
Barron's