LeEco repeats the usual marketing move: jabs at Apple's "lack of innovation"
56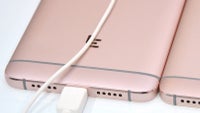 If you've been following smartphone events closely for the past year, you've probably seen the names LeTV or LeEco being tossed around. Both point to the same thing — LeEco, formerly LeTV, is a China-based consumer electronics company, that offers streaming services, TV sets, smartphones, drones, and even has a first generation electric vehicle announced. LeTV was in the news last year, when it announced
the world's first USB Type-C smartphones
— the LeTV One, One Pro, and LeTV Max — bound for international availability; and when it went ahead and openly called Apple
an innovation Nazi
, which stifles progress.
A year later, we have a small re-run of the same tale. About a week ago, LeEco announced a refresh to its smartphone line – the Le 2, Le 2 Pro, and Le Max 2 are the first smartphones for 2016, which
lack a 3.5 mm headphone jack
. In a recent interview with CNBC, CEO and chairman of LeEco Jia Yueting talked about how Apple's products are outdated, due to obsolete designs, and rapidly aging software model. Mr. Jia quoted slumping sales of Apple products in China, and stated that this is due to the fact that Apple has long stopped innovation and has been trumping on the same spot for a while now — the recently released
iPhone SE
, which is a re-packed and upgraded
iPhone 5s
, being proof of that.
According to LeEco's CEO, the smartphone industry now needs products that put "Internet first" and are connected to a wide ecosystem. In his opinion, Apple's iPhone needs to drop the closed ecosystem model if it is to continue growing.
"Apple only has individual apps. This was the right choice during the first generation of mobile net, when CPUs [central processing units] and the mobile network speeds were not fast enough, however now we're moving into the next era of mobile internet, these problems no longer exist. Moreover, having separate apps just means great obstacles in the user experience. We hope to break down these obstacles. [...] We believe the next generation of mobile internet will be more open, more ecosystem oriented instead of being a closed loop...Ironically, Apple's over-dominance, lack of internet-thinking and the closed off nature of its systems, all hindered innovation in the internet mobile industry" - Jia Yueting
If we are to be honest, we are having a hard time getting what Mr. Jia is trying to say. There are a lot of IoT devices, as well as various physical hardware gadgets made to work specifically and exclusively with the iPhone. Thanks to its wide adoption by customers and relatively un-fragmented nature, due to timely software updates for a wide range of active iPhones, manufacturers and developers within the industry have long preferred to make stuff either exclusively for iOS, or for both iOS and Android.
While a slow-down of
iPhone 6s
sales is not hard to imagine 8 months after the phone has been launched,
lead times on iPhone SE orders
show that the mini handset is not exactly undesired by customers. Tim Cook's last statement about the Eastern market said that Apple is still "very bullish in China", thanks to the growing middle class. In any case, the company should be releasing its
Q2 fiscal earnings report later today
, which may throw some light on how much, exactly, it's "struggling".