Apple pushes the date of its fiscal Q2 2016 earnings release back a day to Tuesday, April 26th
20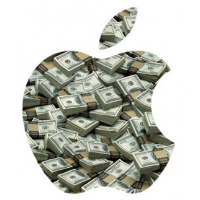 Apple will now have to
wait one extra day to make an historic announcement
. The tech titan was set to release its fiscal second quarter earnings report after the market closed on Monday, April 25th. The report is expected to reveal that the number of iPhones sold by Apple during its fiscal second quarter (January through March), declined on a year-over-year basis. The dubious distinction would be a first for Apple.
Some felt that Apple would report lower year-over-year iPhone sales during its fiscal first quarter, which covered the holiday shopping period. That is because Apple seemed to have set the bar very high by selling a then record 74.5 million handsets during the fiscal first quarter of 2015. But to the surprise of many, Apple kept the streak alive by selling 74.8 million iPhone units during the fiscal first quarter of 2016.
During the fiscal second quarter of 2015, Apple sold 61.2 million iPhones. That is the magic number that Apple must top in order to keep the streak alive. However, most analysts see Apple falling short of that figure. Earlier this year, analysts called for Apple to announce sales of 54.6 million iPhones for the fiscal second quarter of 2016. While some analysts have since tweaked their prediction (the
Apple iPhone SE
was launched on the last day of the quarter so its effect would be minimal at best), it still appears that Apple will announce a decline in year-over-year iPhone sales for the January through March period.
Before you start coming up with conspiracy theories to explain why Apple is pushing the report back one day, there is a simple explanation. Monday, a memorial will be held for the late Bill Campbell who died Monday from cancer at 75. Campbell was a tech consultant "who was a coach and mentor" to many at Apple; eventually he joined Apple's board.
The earnings will now be released Tuesday at 5pm EDT, one hour after the market has closed. A conference call webcast will also be held Tuesday at 5pm EDT. You can check in right here for the numbers as soon as they are announced.
source:
CNBC
via
SeekingAlpha