LG has sold over 3 million LTE phones so far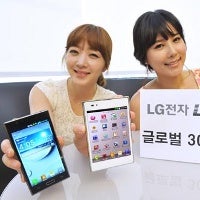 It's been nearly a year now since the first 4G LTE phone by LG was released, and the company has now sold more than 3 million LTE phones, with the flagship
LG Optimus LTE
driving sales. Just recently, we saw the
Optimus LTE cross the 1 million sales mark
in Korea alone, so it seems safe to assume that it makes up around a half of LG's LTE phone sales.
The company is also planning on selling its phones in 10 to 20 more markets by the end of this year.
So far, LG's LTE portfolio constitutes of the following:
-
LG Revolution
- the company's first LTE phone, released in May 2011.
- LG Optimus LTE - said to be the first phone with HD LTE, the smartphone was huge in Korea, but has limited availability in other markets.
-
LG Optimus Vu
- with 5-inch IPS display and a weird for Android 4:3 ratio, this phone stood out among its peers. It's also the slimmest LTE phone currently on the market.
- LG Optimus LTE Tag - An NFC-infused Optimus LTE.
- LG Optimus LTE II - the first phone with 2GB of RAM. Just in case.
LG is also stacking up on LTE patents, holding nearly a quarter of all patents filed for the 4G technology.