LG Optimus 2X vs Motorola DROID BIONIC vs Atrix 4G: specs comparison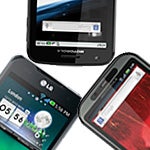 You know, we here at PhoneArena are true hardware animals that care about nothing else but the specs sheet of a model. And guess what - if it so happens that it has a processing power of below 1GHz, or a camera that's of lower res than 8MP, we dump the thing. Well okay, we're actually nothing like that, but we kinda wanted to somehow get you in the right atmosphere for this little specs comparison that we put together here.
We're simply taking the latest dual-core handsets, announced here at
CES 2011
, in the form of the
LG Optimus 2X
,
Motorola DROID BIONIC
and
ATRIX 4G
, and throw 'em into the hardware ring to see which one will come out on top. Okay then, let the specs speak for themselves!