LG G3 smashes the GS5, One (M8) and Z2 in our latest poll
65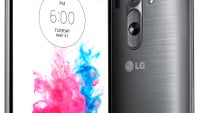 Right after this week's
announcement of the breath-taking LG G3
(there goes our
LG G3 hands-on
),
we published a poll
, asking you which of the four major Android flagships of H1 2014 would you prefer. Naturally, we view the
LG G3
,
Samsung Galaxy S5
,
HTC One (M8)
and
Sony Xperia Z2
as the four major smartphones in the first half of the year, so these were the only options present in our poll, since we didn't want to water things down.
To tell you the truth, we expected the LG G3 to take the lead, as it's the newest handset of the four, with specs that are obviously a notch ahead of the rest (though, when it comes to the display, LG's lead is bigger). However, if we don't put so much emphasis on the 5.5" QHD screen of the G3, since the benefits of such high a resolution on such small a screen are yet to be proven, the G3 isn't that much better than its rivals, at least on paper. It has pretty much the same internals, but where we think it excels is the larger-than-life display, combined with extremely narrow bezels. Such a design makes for a handset that isn't significantly bigger than its opponents, but at the same time offers a maximized viewing area.
So, while we did expect the G3 to have an edge over its rivals in our poll, we were actually shocked to see the staggering lead of the G3 over its opponents! With a total amount of 7692 votes — which is one respectable figure — we're also willing to believe that the results from our poll are quite representative of a relatively wide range of users. As you can see in the chart below, the LG G3 simply obliterates the competition with the whopping 55.36% of all votes. This comes to show that users are very impressed by what LG is putting on the table here. The very distant second in this race is the Sony Xperia Z2, with its 18.68% of this juicy pie. Then, the HTC One (M8) has managed to beat its rival the Galaxy S5, by grabbing 15.21% of the votes. Finally, it seems like Samsung's Galaxy S5 hasn't really managed to live up to the hype, as it has taken the last place in our poll, with the modest 10.75% of all votes. Of course, we don't really think these results spell doom for Samsung as a whole, since we can imagine that there may have been many users voting for other, more exciting handsets, just to express their general disappointment with the GS5, but not the Galaxy line as a whole.
Still, the simple fact that the LG G3 has received more votes than all the other handsets combined, means that
LG has definitely gotten something right here
.