LG G Watch and Samsung Gear Live now available in Google Play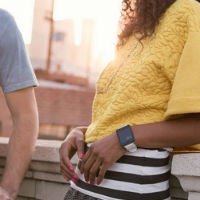 Given that Google I/O is all about developers and software, we weren't really expecting hardware to go on sale today, but that's exactly what we've got. Android Wear is on the way and the first two smartwatches to be released - the LG G Watch and the
Samsung Gear
Live - are now available for pre-order in the Google Play Store.
We've covered both watches extensively from the announcement of the
G Watch
and
Gear Live
, to a
specs comparison
, a poll about
which you would choose
(although the poll was a bit unfair, because everyone really wants the Moto 360), and even a
hands-on
of the LG G Watch (hands-on for the others are in the works). As we've said, the differences in specs are pretty minor. The G Watch has a bigger battery, but uses an LCD IPS display. The Gear Live has a smaller battery, but a higher resolution AMOLED display.
Ultimately, it is probably all about which design you prefer, and whether you thing the LG smartwatch is worth an extra $30. You can purchase the LG G Watch for $229, or the Samsung Gear Live for $199. The LG says it will leave the warehouse on July 3rd, but the Samsung won't ship until July 8th.
Which do you want?