Kantar's data shows worldwide decline in iOS market share during Q4, Android and Windows Phone gain
58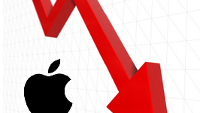 The fourth quarter market share numbers from Kantar are out, and the whooshing sound you hear is BlackBerry circling the drain. The period from October through December included
the failure of the Canadian manufacturer to complete the $9 a share privatization bid
from its largest stockholder. As a result, BlackBerry had to settle for $1 billion in capital and the replacement of CEO Thorsten Heins with turnaround expert John Chen. In the fourth quarter in the U.S., Kanter shows BlackBerry losing 55% of its market share from the same period in 2012. BlackBerry finished the year with a .4% slice of the U.S. smartphone market, down from the prior year's .9%.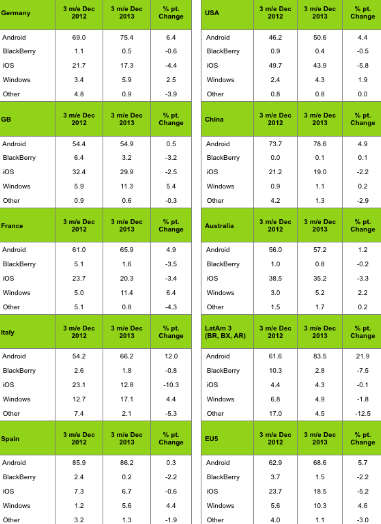 Android and Windows Phone were the big winners in Q4
Even in regions where BlackBerry had a fairly good share of the smartphone market, things collapsed during the final three months of the year. In Latin America, where BlackBerry controlled 10.3% of the smartphone market at the end of 2012, the company saw a huge decline to 2.8% at the end of 2013. Incidentally, Android had a monumental quarter in that very area, as Google's open source OS finished the period with an amazing 83.5% of the market compared with 61.6% the year before.
In the U.S., Android made it over the 50% mark, rising to 50.6% from 46.2%. Apple's iOS suffered a fairly large drop stateside, with a market share that declined from 49.7% to 43.9%. The combination allowed Android to leap frog over its major rival for the top spot in the U.S. But it wasn't only the states where iOS lost share. In Italy, Apple's mobile OS saw its share of the smartphone market crash from 23.1% to 12.8% with Android having nearly a corresponding rise. In five major European countries, iOS saw its market share decline from 23.7% to 18.5% while Android's share increased from 62.9% to 68.6%.
Windows Phone showed momentum in the quarter. In Europe, Microsoft's mobile OS had 10.3% of the market, up from 5.6% a year ago. In the U.K., the figures showed Windows Phone with an 11.3% slice of the market at the end of 2013, up from 5.9% during the same time in 2012. And in the U.S., the platform took its 2.4% market share at the end of the fourth quarter of 2012, and ran it up to 4.3% at the end of the fourth quarter in 2013.
via:
WMPoweruser