Japanese university bans all watches during entrance exams
6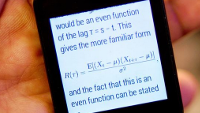 Back in 2009, not everyone was walking down the street with their face tilted downward, staring at a screen. But opportunistic teens saw the future and
started using their feature phones and smartphones to cheat on tests
. Of course, back then not every phone used by teens was of the intelligent variety, so many would resort to texting answers to each other. Others cheated by receiving photographs of the test, with the answers included, sent by someone in the same exam room.
What is interesting in the story from 2009, is that when we mentioned how some students with smartphones were grabbing answers off of the internet, we mentioned the
Palm Pre
.
Unveiled earlier that year
, the Pre was set to become the first true iPhone challenger. But five months later, the industry was changed when the
Motorola DROID
launched from Verizon.
But we digress. Here we are, six and a half years later and a new connected device has teachers worried about cheaters. We talk, of course, about the smartwatch. And as we come around full circle, some schools are beginning to ban these devices from exams. But not every teacher or proctor can tell the difference from a smartwatch and a regular watch, especially if the former is employing an 'old-school' dial.
And that is why Kyoto University in Japan has banned the use of all watches during its entrance exam. While other schools around the world have banned smartwatches from exam rooms, Kyoto just might be the first to announce a ban on all timepieces. Test takers needing to know the time will have the ability to look at clocks that are displayed on the exam room wall.
Some other universities have rules that are not as strict. The U.K.'s Southampton University allows students to put their timepieces, smart and dumb (the watches that is, not the kids) in a clear plastic bag on their desks so that they can use them to see the time. But Kyoto might feel the need to be more on guard against cheating. After all, in 2011 the school was mired in a major cheating scandal. One of its entrance exam test takers that year used a smartphone to get answers to exam questions from the internet. Police later arrested a 19-year old male student.
source:
WSJ