JPMorgan sees AirPods out of the box, an edge-to-edge screen and an L shaped battery for iPhone 8
31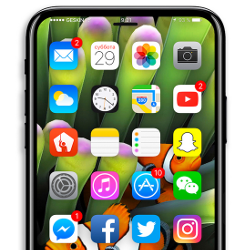 JPMorgan analysts must have an amazing connection inside Apple. How else to explain the recent number of leaks that the bank has recently released pertaining to the 10th anniversary edition iPhone. That is the model that has been dubbed the
Apple iPhone 8
. Some of the comments made by these analysts could be considered "outrageous." For example, just the other day a Morgan analyst said that there is a "high likelihood" that
this premium model will be introduced at WWDC next month
and released in September or October. That actually seems unlikely considering the recent comments made by Apple CEO Tim Cook stating that consumer's focus on this unit is
keeping them from buying currently released iPhone models
.
Analysts from the money center bank are also telling clients that the
iPhone 8
will have an enhanced earpiece for better quality sound. Starting with the
iPhone 7
, the receiver has doubled as a speaker to give users twice the audio output. The new handset will show improvements with stereo sound, and with waterproofing. We could see higher peak sound levels for the device, and the IP68 certification rating will allow users to submerge the phone to a depth 50% deeper than the current 3.2-feet.
Another questionable comment made by Morgan analysts is that the iPhone 8 will come with a set of free
AirPods
out of the box. The wireless Bluetooth driven earphones are priced at $159, compared to the $29 retail price of the wired EarPods. The latter barely cost anything for Apple to produce. Still,
with reports of a $1,000 retail price for the phone
, we can't totally shrug off this rumor.
Another interesting comment from the bank states that the schematics and renders that show a 4mm bezel around the iPhone 8 screen are dead wrong. The phone will have an edge-to-edge display just like the
Samsung Galaxy S8
, according to Morgan analysts. JPMorgan released a diagram (found in the slideshow) which reveals what it expects the OLED iPhone (as it calls the handset) to look like. In addition, the phone will sport an "L" shaped battery according to the bank, which will raise the capacity of the juicer by 30% to as high as 3770 mAh.
One major issue is still up in the air as far as Morgan is concerned. On the question of whether the iPhone 8 will sport a virtual Touch ID button under the screen, the bank's analysts are not sure what Apple will do. Recent renders and schematics for the device have shown a
Touch ID fingerprint scanner on the back of the unit, under the Apple logo
.
Lastly, JPMorgan analysts say that the
Apple iPhone 7s
and
Apple iPhone 7s Plus
will carry the same the design we've seen used on the iPhone since the
Apple iPhone 6
. However, the backs will be made of glass in order to allow for
wireless charging
.
The analysts who wrote these notes to clients come from JPMorgan locations in the Asia-Pacific region. Rod Hall, the bank's Apple analyst in the U.S., contributed the report about the phone's rumored unveiling at WWDC.
source:
Fortune
,
MacRumors