Apple misses the mark, sells 50.8 million iPhone units in fiscal Q2 vs. expectations of 52 million
77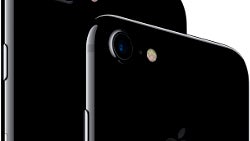 Apple reported its fiscal second quarter earnings this afternoon. The tech titan said that it fell short of Wall Street expectations pertaining to iPhone sales. With analysts expecting about 52 million iPhone handsets to have been rung up in the three months ended in March, Apple said that 50.8 million units were actually sold. CEO Tim Cook told CNBC that the company is noticing "a delay in purchasing behavior." That could be due to the 10th anniversary
Apple iPhone 8
that is expected to be released later this year with many new features, including an AMOLED screen. As Apple's CEO points out, Consumers could be holding off on purchasing a new iOS powered handset until the premium iPhone 8 is unveiled later this year.
Fiscal second quarter iPhone sales also fell short of the 51.2 million iPhones that Apple sold in the same quarter last year. Part of the problem with iPhone sales for the 2017 fiscal second quarter was that overall, the company reported a 14% sales decline year-over-year in China. According to Tim Cook, not including China, Apple grew iPhone sales "nicely" during the three month period that ended in March.
For the 2017 fiscal second quarter, Apple reported $52.9 billion in revenue vs. the $50.56 billion it grossed last year. That works out to a 4.6% gain in the top line. Earnings per share rose 10.5% to $2.10 per share vs. $1.90 per share for the 2016 quarter. Apple made $11.03 billion in profits from January through March 2017, against the $10.52 billion in profits it garnered during the same quarter last year.
Cook pointed out that App Store sales were up 40% for the quarter, with a 20% increase in the number of developers. According to the executive, Apple has strong momentum in services. At the end of the quarter, Apple held $256.8 billion in cash, and investors are demanding that Apple deploy it either by distributing a huge one-time dividend, or by making a huge acquisition.
"We are seeing a kind of delay in purchasing behavior that we think is a consequence of the number of rumors and reports about future products. That is happening. However, if you look at iPhone outside of greater China, iPhone units grew very nicely. We had more upgraders in the first half than ever before. And we had more switchers than ever before. There is a lot of good news in there."-Tim Cook, CEO, Apple
Investors are using the report as an excuse to sell the stock. After hours, Apple's shares are down $3.42 or 2.33% to $144.07.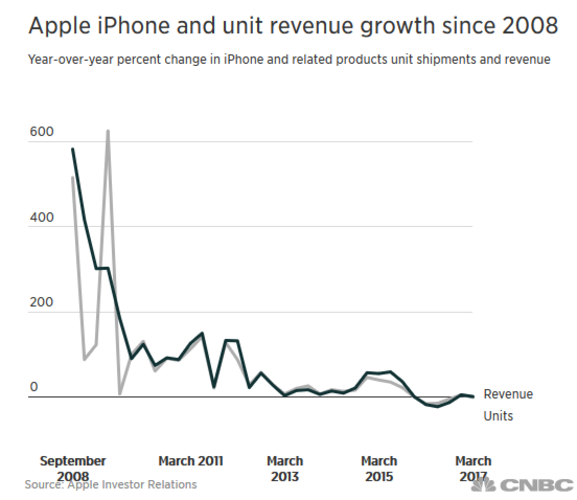 Apple has seen its growth in iPhone unit sales and revenue decline sharply over the last few years
source:
CNBC