Intel actually has a Clover Trail-powered tablet on display at CES
3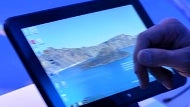 While
Clover Trail
, the mobile chipset from Intel that is supposed to take over from the stopgap Medfield Intel flaunted a phone and a tablet with yesterday, has been mentioned to be the real competition for ARM-based silicon, we haven't seen anything with it yet.
Well, it exists, and was even powering a prototype tablet at Intel's CES booth, enclosed in a glass box. The 32nm Clover Trail is supposed to bring down battery consumption to ARM level, offering what Intel claims will be comparable performance, although it didn't specify whether it means the current Cortex-A9 dual-core chips, or the upcoming Cortex-A15 monstrosities.
The reference Clover Trail tablet has a 10-pin connector, HDMI and USB ports, microSD slot, and even a place for a SIM card module to hook it up to carrier networks. Intel plans to have it
ready for battle when Windows 8 ships later this year
, in direct competition with ARM-based tablets.
Acer and Lenovo
are rumored to be in the first wave of Clover Trail Win 8 tablets.
source:
TheVerge