Images of Nokia X2 appear; new model to offer flash and front-facing camera?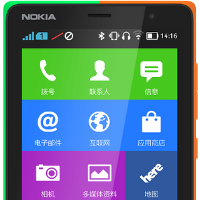 Later this morning, Nokia will introduce the new Nokia X2. On Monday, we wondered out loud
which OS would be stuffed inside the phone
. That is still a question that we can't answer for sure until the phone is officially unveiled. What we do have to show you, is an image of the uncovered back of the Nokia X2 compared with the uncovered back of the
Nokia X,
along with a full-frontal of the newer model.
The Nokia X2 is rumored to have 1GB of RAM, and will supposedly be powered by a Snapdragon 200 chip. While the original model lacked a flash for the camera, it sure looks like we can see it above the camera on the back of the X2. On the image showing the front of the phone, we can see a front facing camera, something that was also absent on the Nokia X.
Keep checking in and we should have all of your questions about the Nokia X2 answered well before the sun rises in the states, so set your alarm early and check in often.
via:
NPU