If you've already won a $5 Google Play credit, stop buying more Kit Kat bars
17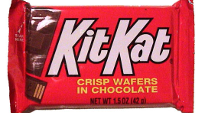 Having trouble fitting into your pants lately? Popping buttons on your shirt? Blame Google and Hershey (or Nestle's if you live in Europe). You probably have been buying up all of those specially marked Kit Kat bars with the special code inside the wrapper. Once you check out the code online, you might find that
you've won one of 1000 Google Nexus 7 (2013) slates being given away
.
Because there are so many chances to win the first prize consisting of a $5 voucher for the Google Play Store (that can be used on anything but devices), it is quite possible that you have won one of these useful certificates. But if you are like most people, you have your eye on the prize, the Nexus 7 slab. You're not going to stop trying to win the tablet just because you already won a $5 voucher. So you keep on buying Kit Kat bars, hoping to win the tablet, spending more money and putting on more pounds. But guess what? An obscure rule in the contest says that there can only be one prize awarded per name, email, address or household!
This means that once you've won the $5 Google Play Store certificate, you might as well save money and more importantly, not bloat up like a beached whale with your constant devouring of those scrumptious bars. That applies if the only reason you are consuming the candy is for a shot at the Nexus 7. If you like Kit Kat bars anyway, go ahead and munch away. By the way, we should point out that in the jolly old U.K., there have been reports of multiple £5 Google Play voucher winners.
In the states, it is a different matter as you can see from the reply below sent by Hershey in response to a request to clarify the rules of the contest.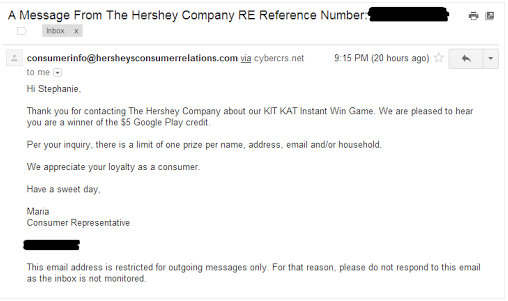 Hershey's clarifies the rules of its KitKat Android 4.4 contest
source:
Google+
via
Phandroid