Kit Kat contest up and running, win one of a 1000 Google Nexus 7 (2013) slates being given away
24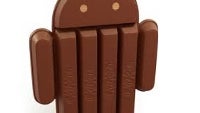 UPDATE:
To enter the contest with no purchase, you can request a free game code by sending a 3"x5" card with your full name, address, city, state, zip code, date of birth and email address to: Android / KIT KAT® Instant Win Game Code Request, P.O. Box 760023, El Paso, TX 88576-0023. Game Code requests must be postmarked by January 31, 2014 and received by February 7, 2014. Game Codes will be emailed to the email address listed in the request. Limit one (1) free Game Code per request per separate postmarked outer envelope.
Besides being a tasty snack,
Kit Kat is now a new Android build, 4.4 to be precise
. And to kick off the new partnership between Kit Kat and Android, a new contest is being run with 1000 lucky winners scheduled to win a Google Nexus 7 (2013) tablet. 150,000 winners will get a $5 Google Play Store Credit. 20,000 will get a free bag of Kit Kat Minis. As far as we know, there is no plan to give out any Kit Kat Max bars (just a joke).
The contest is actually being run by Hershey and requires you to look, as they say on television, for specially marked packages of Kit Kat with the Android mascot on the wrapper. Find the special code inside the wrapper and enter it at the special Kit Kat-Google web site found at the sourcelink. And while you're running through all of those Kit Kats looking to win the tablet, keep in mind this saying:
eating too many Kit Kats looking for the free slab, can leave your body all full of flab
.
source:
Hershey
via
Phandroid