Huawei chairman says the company will defy the Chinese government
19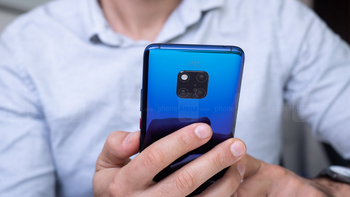 Some savvy smartphone users in the U.S. are upset that carriers in the states aren't offering Huawei handsets to their subscribers. That is because the U.S. government considers the world's third largest smartphone manufacturer (or second, depending on the source of the data) to be a national security threat. Lawmakers in the states fear that Huawei devices and its networking equipment contain "back doors" that send information from consumers and corporations to the communist Chinese government. So far, the U.S., New Zealand and Australia have banned carriers in their own country from using the company's 5G networking gear.
National security laws in China require companies based in the country help the government gather intelligence. However,
according to Bloomberg
, Huawei chairman Liang Hua says that the company is not legally obligated to spy on other countries. The executive says that he received an independent legal opinion that says Huawei does not have to create a "back door" for its devices even if asked to by Beijing.
Through a translator, the Huawei chairman said that the company has never been asked to spy by the Chinese government, and wouldn't do so because it would be illegal. He stated that Huawei is an independent organization with a good cybersecurity track record.
However, some of the optics for Huawei do not look good. For example, the company faces a criminal trial in the U.S. for stealing tech secrets belonging to T-Mobile's "Tappy" phone testing robot. T-Mobile has already won $4.8 million from the manufacturer resulting from a civil trial over the matter.
There are also other indictments related to bank fraud
that the company's CFO, Meng Wanzhou, allegedly committed in order to cover up business that Huawei reportedly had with Iran. The country is under U.S. economic sanctions. Meng, the daughter of Huawei's founder, was arrested in Canada late last year on a U.S. warrant. She faces extradition to the states.
Because of this tension between the U.S. and Huawei, in January 2018 plans for AT&T and Verizon to offer the
Huawei Mate 10 Pro
were canceled. Since then, U.S. carriers have missed out on well-received models like the
Huawei P20 Pro
and the
Mate 20 Pro
. It also means that U.S. consumers won't find the upcoming P30 series available from their local wireless provider, nor the foldable 5G enabled
Huawei Mate X
.