Here are all of the emoji, including the 72 new ones, available on iOS 10.2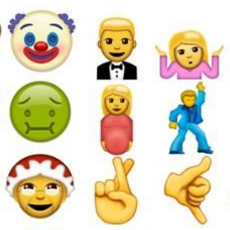 As we mentioned the other day,
the developer preview version of iOS 10.2 has been released
. With this build
comes the 72 new emoji that Unicode approved back in June
. Among the new emoji are
facepalm
,
bacon
, and
fist bump
. The update to iOS 10.2 is expected to reach the general public later this month or early next month.
Among the new emoji you will find a
clown
. Back in June, when Unicode 9.0 was approved, you probably figured that a clown would be used in funny messages that passed along jokes. But clowns have since morphed into scary creatures. Other additions include the
fingers crossed
emoji, which you might add to an iMessage that reads "I hope that I don't see any clowns today."
With the 72 new additions, there are now 1,673 emoji officially recognized by Unicode. The new emoji, as noted, will appear on iOS 10.2. Android users will be able to see them only on Android
7.1
, which means that only those with the new
Google Pixel
or
Pixel XL
currently have access to emoji like
pancakes
, a
duck
or a
male disco dancer
.
Check out all of the emoji options available to iOS 10.2 users by clicking on the slideshow below.
All of the emoji available for use with iOS 10.2
source:
9to5Mac