Heins' departure ends his brief reign at the top of BlackBerry
7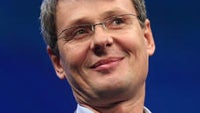 Now that Thorsten Heins is out as CEO of BlackBerry, it is time to sit back and review his time at the top of the troubled manufacturer.
Heins was named CEO of the Canadian firm
in January 2012. He had been with RIM for nearly 5 years when handed over the reins at BlackBerry and his job was to overlook the rollout of BlackBerry 10. Unlike previous management, which often
seemed befuddled and in denial
, Heins appeared to be knowledgeable and aware.
Along the way,
Heins sparred with the New York Times
when the paper wrote a story about how ashamed some BlackBerry owners were of their device. He was a good-will ambassador for BlackBerry,
sitting courtside at an NBA game with a BlackBerry 10 handset.
Quickly becoming the face of BlackBerry,
Heins introduced the new BlackBerry 10 to the world
and when analysts starting questioning if sales of the BlackBerry Z10 were as good as the company was saying,
it was the executive that defended the phone
. Not that he didn't have some missteps along the way. Heins might have put his foot in his mouth this April when he said that
tablets would be a dead product in five years
.
It was the CEO who announced in August that the company would undergo the strategic review that led to the failed attempt to sell BlackBerry. And while it was the inability of Fairfax Financial to secure financing for its bid that led to
today's announcement that Heins will be stepping down
, in reality it was the failure of BlackBerry to put out a compelling phone with a matching OS that was to blame. BlackBerry had hoped that its new handsets would allow it to sneak in ahead of Windows Phone for third place behind Android and iOS. But unlike BlackBerry, Windows Phone found a niche in low-light photography which was able to sustain the platform until the GDR3 update made Windows Phone 8 a much improved challenger to the duopoly at the top.
Whether the $1 billion investment in BlackBerry can turn the company around is obviously something that we can't know for now. But what we do know is that BlackBerry will have a new man at the top running the show.