HTC has big plans for Sense UI and LTE, sends out puzzle teasers to prove it
6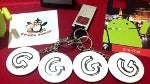 HTC will soon open a new wireless research facility in North Carolina, but it is obviously already hard at work concocting the next magical potion of Sense UI. According to Drew Bamford, the head of User Experience at HTC, the company will be expanding the Sense UI beyond smartphones to home automation, focus on content delivery and natural interactions. Sounds posh, so let's elaborate a bit.
The company now has two years of experience with Android, and is establishing a relationship with the Windows Phone 7 development team to tweak the WP7 interface,
including more HTC Sense components
. These facts make it confident enough to try and extend the good work it has done with the elaborate user interface, via the
HTCSense.com phone management and backup portal
.
By
content delivery
HTC means pushing e-books and multimedia to your phone. In Europe the new HTC Sense allows access to the Kobo reader and Borders Books platform, and in the US the WP7 devices of HTC are sporting an alliance with Netflix. By entering similar partnerships, HTC plans to give access to newspapers, magazines and music subscription services as well. Nothing much different from what other manufacturers have (
Samsung Media Hub
), or plan (
Motorola
), but HTC usually integrates and executes its services really well throughout the UI.
The company also wants to extend to your TV and other home electronics - the
HTC Media Link device
already allows for wireless streaming of content from your phone to your computer or TV, and plays well with HTC Sense. In the big wide world outside of the living room, HTC has grand plans for its devices on
LTE networks
, which, according to Bamford, offer enough capacity to replace your cable broadband at some point. He envisages a world where you record TV shows with your phone, for example, and then
stream
them to the home TV in the evening. Native
video calling
will be integrated into HTC's LTE handsets out of the box, without the need for 3rd party apps as well.
And, finally, the company has thought about better visual interaction with all of the above mentioned niceties, considering 3D for the user interface. HTC had first dibs with the
TouchFLO 3D
UI way back on the
HTC Touch Diamond
running WinMo, but waited to pile up some experience with Android, and is now hard at work bringing 3D back to its handsets. An example are the 3D weather animations in Sense UI on the
HTC HD7
. The phones will also build upon
natural interaction
ideas, like silencing the ringer when the phone is picked up, for instance.
All these ideas might pretty soon materialize in the
rumored LTE handset for Verizon
, as HTC's PR firm started sending out some puzzle pieces in a package, to spur our imagination. Namely, these are a foam TV (possibly hinting at the multimedia streaming capabilities mentioned above), the green Android robot and a "Froyo Lover" sticker. There are two things more, which solve the puzzle for us - Android screen printout, which shows Las Vegas (
CES 2011
?), with an empty box in the corner where a face would appear if on a video chat, and a compass keychain (HTC's new
Locations app
?) with four "G" letters hanging from it (4G, of course).
So,
on January 6th
we should know more about an upcoming LTE phone from HTC, which should feature some sort of media streaming and receiving capabilities, HTC Locations for offline navigation, and a native video chat application. Awesome, Christmas is getting extended this year, and we can't wait to see if we guessed right, or were way off-kilter. Somehow we doubt that HTC would bother that much for the
HTC EVO Shift 4G,
its other "4G" handset slated for announcement at CES 2011. What do you think?
source:
Forbes
&
AndroidGuys