HTC game plan: HTC One refresh in 2013, M8 sequel in 2014
46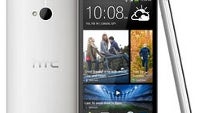 With the
HTC One
turning out to be the most successful handset coming from the Taiwan based manufacturer's camp in years, talk naturally turns to a sequel for 2014. But before we get to next year, there is some talk about a refresh version of the HTC One that will hit the market sometime later this year. The refresh model is expected to offer
incremental updates
to the hardware while the sequel, code named M8, will be out next year with wider changes in store for the phone. You can expect the refresh model to launch after the HTC One is finally made available for Verizon. That is expected to take place by the end of this month as the
unit just passed through the FCC
.
The M8 is expected to be powered by a faster processor (Qualcomm Snapdragon 800?) and will have a larger screen sized in-between the 4.7 inches on the HTC One and the 5 inches seen on the
HTC DROID DNA
. You might remember that
the HTC One was originally called the M7
which is why the sequel is being called the M8 for now.
So that is the plan, at least for now. A refresh version of the HTC One with minor changes, and a more impressive HTC One 2 "M8" for next year. It is not written in stone, according to the tipster, which means that HTC could decide to go in a different direction.
source:
Pocketlint