HTC finally admits that its wearable product is delayed until 2015
9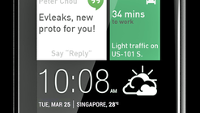 HTC Americas president Jason Mackenzie admitted today, that HTC was initially planning on releasing a wearable device this year. The executive said that the wearable was not ready for a 2014 launch and will launch in 2015 instead. The company said it will reveal more information about its wearables game plan early next year.
Drew Bamford, who runs HTC Creative Labs, says that the current roster of smartwatches available from other manufacturers is nothing to get excited about. Bamford says that none of HTC's rivals "
have gotten it right
."
"We've seen a lot of general purpose wearables come to market. There's not a strong reason to wear one every day. When we come to market with our product we want to make sure the product has a strong point of view and there is a really compelling reason to strap it on your wrist.-Drew Bamford, HTC Creative Labs
Back in July, @evleaks had tweeted a message
containing an image of what he said was an Android Wear powered smartwatch from HTC
. But in early September, a rumor spread that
HTC had canceled the project due to rising costs
. But now it appears that the project is just taking longer than expected. According to Bamford, "
We think the strategy we were working on will get us there, but we want to take our time and get it right. We honestly don't think anyone has gotten it right
."
source:
Recode
via
AndroidCentral