HTC U 11 hands-on: putting the squeeze on its competition
10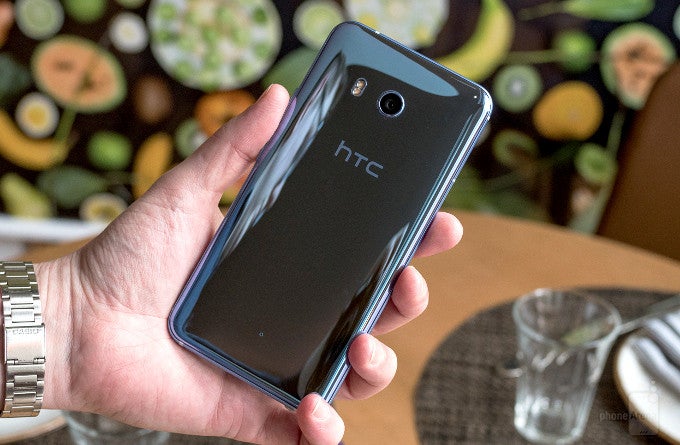 Earlier this year, HTC said "out with the old, in with the new," as the company stepped away from some of its established smartphone branding, and
introduced the new U series with the U Play and U Ultra
. Sleek and shiny, the glass-enclosed handsets resembled little of the metallic unibody look of One-series phones. While this new direction for HTC's lineup was interesting, it also felt a bit lacking: in the
U Play
we had a new mid-ranger, and the
U Ultra
served to satisfy that phablet itch, but neither felt like a traditional flagship; would we ever get a proper follow-up
to the HTC 10
? Well, a little patience was all we needed, and now a few months down the line it's finally time to meet the king of the new HTC U clan, as the manufacturer introduces the high-end HTC 11.
Design
Just like the
U Play
and
U Ultra
, the look of the U 11 is done with utilitarian metal design and instead embraces a look that's flowing, colorful, and almost natural-looking. The dominant design element here is the phone's rear panel, whose expansive glass construction brings smooth lines and subtle hues to the U 11.
HTC plans to sell the phone in five main colors: ice white, brilliant black, solar red, sapphire blue, and amazing silver – which we wouldn't blame you for identifying as "light blue." In fact, the way that hints of blue peek through the silver there may be most prominent with that color option, but this way of blending colors and having them play off each other is present in all those other looks as well: the white shows hints of red at just the right angle, the black hides flashes of green, the red shines with golden yellow, and you'll even catch a little purple mixed in with the blue.
The blue, black and silver will all be available when the U 11 hits the US, while the white and red are going to remain international-only for the time being (which is a shame, because the white is one of the more impressive of the phone's color options).
As for the overall build, the U 11 features components of some exacting tolerances, fitting together, if not quite seamlessly, then with seams that nearly blend away under your fingertips. Those tight fits help the U 11 deliver IP 67 dust and water resistance.
Display
While HTC's major competition is embracing super-widescreen displays for their 2017 flagships, HTC isn't quite ready to join them on that playfield. Instead, we've got a much more traditional 16:9 aspect ratio 5.5-inch panel with a quad-HD 1440 x 2560 resolution. It's protected by Gorilla Glass 5 (while HTC goes with GG 3 for the phone's back panel).
With the power of a Snapdragon 835 powering the graphics headed to this screen, you might assume the HTC U is destined for some next-gen smartphone-based VR action, but be aware: this phone is not compatible with
Google Daydream
. The main culprit there is HTC's choice to go with a Super LCD 5 panel – it looks just fine, but isn't quite up to Daydream specs (ie, AMOLED).
One of the more interesting things about the HTC U 11 isn't the screen itself, but what's going on immediately adjacent to it. That brings us to:
User experience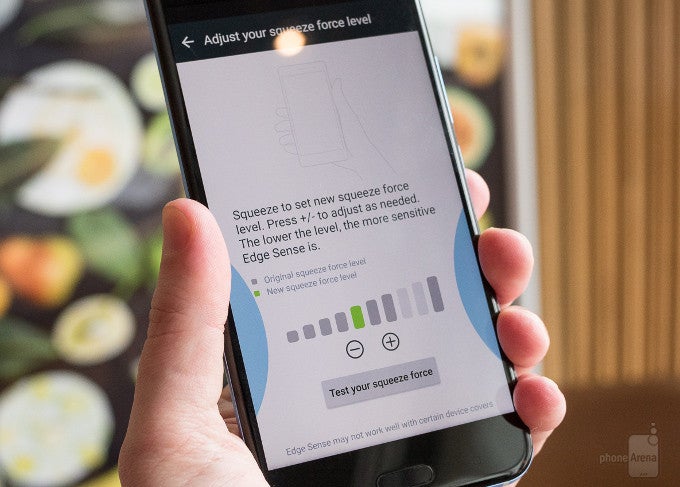 You've interacted with your phone by touching its screen, pressing buttons, flipping it over, and maybe even shaking it. Now HTC is adding another level of control to that mix with the introduction of Edge Sense, a system that lets you trigger actions on your phone by giving the handset a firm squeeze.
Pressure sensors running up and down the length of the U 11's screen detect when you're squeezing the handset, and then perform one of several pre-programmed actions. You can quick-launch the camera, toggle the phone's flashlight, or pull up the app of your choice. Settings let you control just how hard you need to squeeze to trigger the action, and you can configure two different responses: one for a short squeeze and one for a long squeeze.
It's an interesting system – we'll give it that – but we're going to need to spend some more time with Edge Sense to really get a feel for what it might offer that's an improvement over a simple software-configurable button, like on the
BlackBerry KEYone
or the
Galaxy S7 Active
.
Another key component to the HTC U 11 experience concerns its handling of audio features. HTC's really covering all its bases here, with enhancements to the phone's microphone, speaker, and even
earbuds
. The mics now form a four-microphone array for 3D audio capture, and include a low-power option for detecting voice-command hotwords when the handset's not otherwise in use. And while stereo front-facing speakers aren't making a comeback, the phone's BoomSound output is appreciable louder and richer than we heard on the HTC 10.
Like other recent HTC phones, there's no analog headphone jack, but with the U 11 the company has seen fit to finally bundle a USB Type-C adapter right in the phone's box. But better still is the experience you'll get from the included USB earbuds. Just as we've seen on other HTC phones using digital earbuds, they scan your ears to develop a custom listening profile. With the U 11, though, HTC ups the ante by offering active noise cancellation. We've long been searching for a real good reason to say "USB Type-C headphones are the future," and noise cancellation might just be the killer feature that makes that happen.
Camera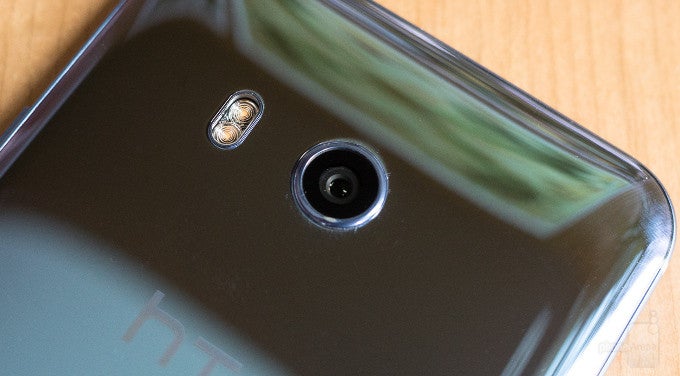 Much like Samsung didn't reinvent its camera for this year's flagship, HTC isn't going with some bold new imaging system on the U 11. Like on the HTC 10, we're looking at a 12MP UltraPixel camera. Its feature set feels like a mix of trade-offs. On one hand, we get speedy dual-pixel auto-focus, but lose laser-assisted focus in the process. And while there's a larger f/1.7 aperture to let in more light, the camera sensor itself is slightly smaller than on the HTC 10 – making it more difficult to sample that light.
The front-facer, meanwhile, is a 16MP component, and from the demos we've seen, appears to be quite adept at low-light capture. We're going to want to spend a lot more time with both cameras, and do some comparisons with other flagship-class smartphones, before we make any final determinations on camera performance.
Battery
HTC's going with a 3,000mAh battery for the U 11, the same capacity it gave to the larger U Ultra. Combined with the power-efficient 10nm Snapdragon 835 chip, that has the potential to give the U 11 some decent endurance. While there's the expected Quick Charge support, HTC's still not ready to get on board with
wireless charging
technologies.

Expectations
The HTC U 11 appears to be doing a fair number of things right. It's running a best-in-class processor, offers a solid 4GB of memory, and is bumping the phone's storage level up to a very comfortable 64GB. That's the main configuration, but HTC is also producing an even higher-end U 11, with 6GB of RAM and a killer 128GB of storage – but no matter which you pick up, you'll still have access to microSD expansion.
But the thing is, while those high-end specs might have made the U 11 a real contender in last year's market, this year flagship smartphones are going through a real period of reinvention. Samsung and LG's flagships look little like any other phones on the market, and while HTC is definitely going with a new look for its U phones, this is a design that still feels rooted in past ways of designing handsets, for better or worse.
Some shoppers will absolutely be drawn to a handset that's a better, more powerful version of phones they're familiar with. But there's also a very big risk that the U 11 just isn't flashy enough, and different enough, to feel like a modern, competitive response to the very strong phones we've already seen from other manufacturers so far this year.
Getting past that is a complicated task, and has as much to do with marketing and carrier promotions as the appeal of the phone itself. Can HTC finally rise to the occasion? We look forward to finding out.
Watch now