HTC One A9 rumor round-up: specs, price, release date
17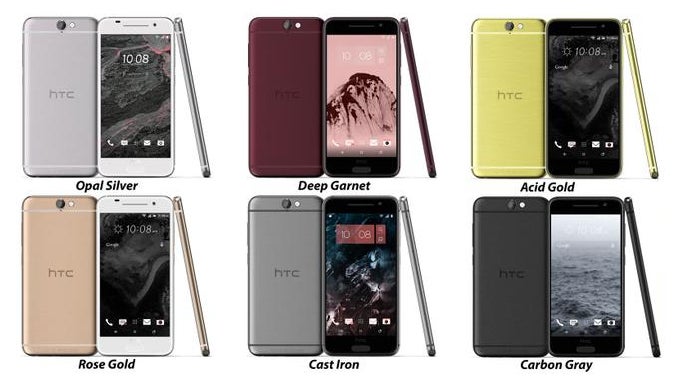 It was some time in July when we started hearing about a mysterious new HTC handset named the Aero. Later on, rumors started reaffirming that it will be known as the
HTC One A9
, and various reports about its specs and placement in the smartphone hierarchy started popping up. A faux launch-date was whispered about – September 29th – but, as we all can pretty much confirm – an HTC One A9 has not been launched yet. Now, a new event is
right around the corner
– HTC is prepping to reveal something on the 20th of October and the rumor mill believes that this is when the world will see the A9 for the first time.
So, with that date being just a week away – let's recap everything that has been leaked, speculated, and reported on about the new HTC One A9.
Design and fingerprint sensor
Early leaks showing an iPhone-ish design seem to be more and more in line with reality, as even leakster @evleaks has posted a few shots showing the HTC One A9 in its multi-colored glory. Leaked images show the handset to be metal-built, of the non-removable battery kind. Its shape, rounded off corners and antenna strips included, remind watchers of the iPhone 6 with a twist of HTC. There appears to be a fingerprint scanner right under the screen, shaped in an elliptic fashion, much like a Samsung home button, but looks like it will be a touch sensor only. If this is the case, we suppose it could also allow for various touch gestures when the device is on, like what the
OnePlus 2
does with its finger sensor, but that's still just speculation. @evleaks tweeted renders of the device, showing it in
6 different finishes
– opal silver, acid gold, deep garnet, carbon gray, rose gold, and cast iron.
Display and specs
There are a lot of conflicting reports about what class device the One A9 is going to be and none seem to be prevailing. Early rumors claimed that it will bear MediaTek's deca-core Helio X20 MT6797 SoC, paired with 4 GB of RAM. The display was said to have a 5" diagonal and a 1080 x 1920 resolution. This leak is also reinforced by what seems to be a blooper by a Dutch retailer, who listed the One A9 early on its website, clearly stating a 5" screen and 4 GB of RAM, with a price-tag equivalent of $792.
Now, all of these leaks gathered paint the picture of a powerful, top-tier device. However, more recent leaks, first ignited by serial leakster @evleaks, showed us a different painting – one of a
midrange smartphone
. Indeed, according to the latest reports the HTC One A9 will have a midrange Qualcomm Snapdragon 617 humming under its hood, paired with just 2 GB of RAM, 16 GB of internal storage, and powered by a 2,150 mAh battery. In the camera dapertment, it will have a 13 MP main snapper, and a 4 MP ultra-pixel selfie cam. As far as the display goes – this information hasn't changed, thankfully, it is still expected to have a 5" diagonal with a 1080 x 1920 resolution, resulting in the crisp 441 ppi pixel density.
You think the conflicting reports are done? Well no – not quite so, as an
AnTuTu Benchmark report
leaked the One A9 to bear a Snapdragon 620 under its hood, and 3 GB of RAM. In this case, all other leaked specs remain the same, safe for the internal storage, which has also been boosted up to 32 GB.
Quite confusing thus far, though, we do believe it's safe to say that the chances for the HTC One A9 to actually be a super-powered top-tier device are pretty slim. Earlier leaks could've been either wishful thinking, scrapped ideas, other HTC projects, or any mixture of the three. Of course, there's also the chance that the A9 will arrive in a few variants, though, we don't believe they will range all the way from a Qualcomm Snapdragon 617 to a MediaTek Helio x20.
Android 6.0 Marshmallow on-board
As previously mentioned, HTC has already sent invitations for a virtual announcement on the 20th of October. The event is clearly going to consist of at least one phone unveiling, as
the invitational email
read "
Meet the new Marshmallow from HTC on 10/20
". So, if the phone we are about to see announced is indeed the HTC One A9, this would make it one the first non-Google handsets to bear the brand-new Android build. This means granular app permissions, Android Pay, native fingerprint support, Google Now on Tap, and Doze mode, which will hopefully mean
more battery life
out of that 2,150 mAh juicer. HTC's Sense UI is known to be a pretty light reskin over stock Android, so if the manufacturer continues this trend with the One A9, we should expect a snappy, nearly unaltered functionality, with HTC's visual themes slapped over it.
Partnership with Tidal

HTC has partnered with Tidal for the event, claiming that the two companies are bound by a mutual love for music. The renders and leaks of the One A9 we've seen so far don't show huge BoomSound stereo speakers, so this device doesn't look like it will be as melomaniac-centered as the flagship One M9 or the higher-end Desire series. However, it may mean that the new HTC handsets could come with a free trial period of Tidal Music as a gift. After all, Google does it with the Nexuses, Apple does it with the iPhones, even Samsung bundles 3 months of Deezer Premium+ for Galaxy S and Note users. Tidal does have a 30-day trial offering, but with the HTC One A9 – it could be extended to match the competitors' 90-day periods. But that, again, is speculation.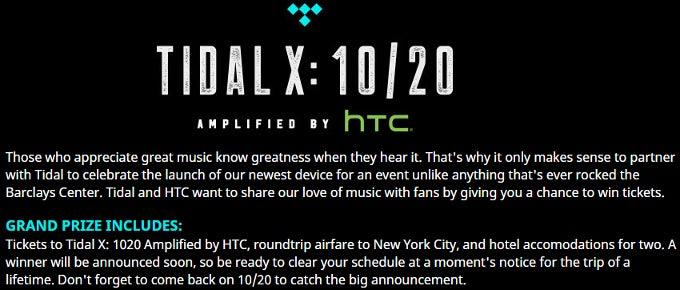 Price and release date

In its website, HTC refers to the 10/20 event as a "launch", so it's safe to assume that the HTC One A9 will become available for purchase soon after it has been unveiled on-stage. As far as price goes – that's still unknown. If we are to believe the more recent rumors — that the One A9 is going to be a Snapdragon 617-equipped midranger — then the price-tag of $792 that was leaked earlier is hardly a believable one. Indeed, judging from past launches — such as the Snapdragon 615-bearing Desire 820 — we would expect the HTC One A9 to be priced between $400 and $500.



The next evolution of the One. See it 10.20.2015 at 9am PST/12pm EST: http://t.co/CnK7R0CmPB#BeBrillianthttps://t.co/uM5GoJawr9

— HTC USA (@HTCUSA) October 13, 2015