HTC 10 system update tweaks camera and cellular connectivity on the phone
19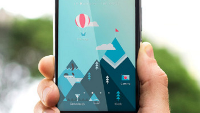 The unlocked
HTC 10
is
being shipped this week
, and the Verizon version (which is a U.S. exclusive until May 10th)
will be shipped by May 5th
. But even as the units sit in boxes ready to board a plane or a truck that will ship them to their final destination, HTC is sending out a system update for its new flagship handset.
The update improves the camera by making low-light images sharper and clearer. Photos taken outdoors will be improved, and the laser auto-focus will work better. Additionally, the HDR feature "has a wider range of light sensitivity." Purple noise that appeared in Pro Mode should no longer be an issue.
The update also improves cellular connectivity in areas where there is a weak signal. Smart MIMO (multiple input-multiple output) will enhance Wi-Fi connectivity.
Unlocked HTC 10 models in Europe will get first crack at the update, followed by unlocked models sold directly by HTC (which includes AT&T customers). It isn't known when the system update will reach carrier-branded variants of the HTC 10 in the U.S.
via
Phonescoop