Google's Nexus concept overhaul due in November: lead phones with stock Android, manufacturer UI on the side
61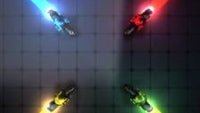 A few separate sources today are confirming what
we heard from the WSJ earlier this year
- that Google's Nexus phone program is about to be completely overhauled, and perhaps that is the reason we haven't heard the usual rumors about the new Nexus phone reaching a crescendo level at this time of the year.
The sources point out that Google will be setting up a whole new
Nexus program
now, in which any major manufacturer can participate with the best they can offer, but will have to adhere to strict guidelines.
The major news here is that all the stock Android Nexuses, regardless of the manufacturer, will have their UI overlays that supposedly differentiate the brands, as just a
theme available via a separate customization center
. It was high time, if you ask us, and something millions of Android users have been demanding for a while now.
Moving on, we find the info that those new Nexus phones will be running an upgrade from Jelly Bean, numbered 4.2, and will have to include some hardware requirements that will get in use for a major Android 5.0 release, which is slated for next fall. Android 4.2, which may or may not be called Key Lime Pie, will bring minor changes to Jelly Bean, like presenting the homescreens as tabs, improved power management, integrated Play Store app, and some under the hood Nexus-y stuff that will be the basis for the next major Android release.
Perhaps the biggest change will be the Customization Center we mentioned above, a native theme manager, which will allow you switching to the manufacturer UI overlay, if you are so inclined.
As to who will make those Nexus phones with the new concept - the
LG Optimus G Nexus
got confirmed for the umpteenth time, but also the
Samsung Galaxy Nexus 2
is bandied about, as well as phones from
Sony and HTC
are claimed as potential partners, and the whole lot is said to hit shelves in November, just in time to rain on the Windows Phone 8 Lumia, ATIV and HTC parade.
Let's not forget that November 5 is Android's fifth birthday since the announcement, so celebrating with a new Nexus program seems fitting. Andy Rubin is expected to talk about the new Nexus program at the AllThingsD: conference later this month, but the actual phones that participate are said to be unveiled in November.
Basically, the take is that we might have the lead phones of some Android manufacturers this holiday season sold with
stock Android
, and a theme manager to install the manufacturer interface as a personal choice, which can be reverted. Makes great sense, since everyone can choose their favorite design/hardware combo, and be sure that as soon as a newer Android version gets released, they will be first in line, with the manufacturer overlays out of the way.