Microsoft Surface Phone rumor resurfaces, to hit the shelves by next summer
24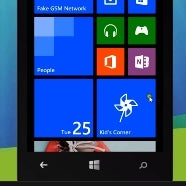 According to the China Times, sources from the supply chain reconfirmed that Microsoft has been quietly working on the
rumored homebrew Surface Phone handset
for the last four months, and is expected to finish and launch it some time in the first half of next year.
The alliance with Nokia as a manufacturing arm didn't pan out as Microsoft intended, as the first Lumia phones couldn't quite gain traction against the dual-core, high-res offerings of Android and iOS. Microsoft has certainly itself to blame since it took it quite a long time to introduce support for modern hardware in its mobile OS, and Nokia showed it can deliver innovative handsets when the platform allows it, with the
Lumia 920
.
Still, Microsoft is apparently hedging its bets, letting Samsung's
ATIV S
be the first WP8 device announced, not a Nokia phone, and
working with HTC's designers for a year
over the look and feel of the
8X
and
8S
phones. Now it might turn out that Redmond is developing its own hardware to achieve
full vertical integration
, just like Apple does, further down the road, when it gains enough manufacturing experience.
While we doubt that it will beat Nokia's WP8 devices, a Surface phone might become what the Nexus line has turn into for Google - a playground which gets all the newest updates first, and has some special aura for fans of the mobile OS, not to mention it could fill Microsoft's own vision about how its handset should look and behave - a vision not necessarily shared by any of the big WP8 manufacturers, but unique Microsoft. Well, the more, the merrier, we'd say, and leave it at that until more substantiated rumors appear.