Rumor confirms 4.7" LG Nexus is on the way
67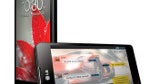 Word on the interwebs is that Google may be looking to launch a number of Nexus devices this year, vastly expanding its line-up of stock Android-running handsets. Meanwhile, Spanish site MovilZona seems convinced that LG will be among the manufacturers who'll be announcing a Nexus phone later in the year.
According to the source, which claims to have acquired its information from a person who's close to Vodafone, the device in question will feature a big 4.7" display with very high resolution, sporing quality and detail close to that of the
iPhone 5
's Retina Display. Apparently, this matches the description of the recently-announced
LG Optimus G
, so what we're dealing with here might as well be a version of that very same phone. Whether the LG Nexus phone will be a version of the Optimus G, or a more differentiated handset remains to be seen, but it does make sense for Google to use LG's Optimus G as a template. After all, the Koreans' smartphone will have the best in terms of hardware once it ships in a month or so.
However, one of the cooler things going for the Nexus phones so far was that they were somewhat exclusive, or at least not as easy to come across, yet they were powerful Android smartphones. If the rumors about Google looking to expand the line-up with multiple launches this year turn out true, that might easily reduce their awesomeness a bit.
via:
AndroidAuthority