Google may annoint Texas Instruments as official silicon partner for Android Ice Cream Sandwich
12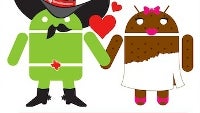 We know the merits of Android handsets equipped with Texas Instruments's OMAP family of chipsets. They usually
shine at benchmarks
, and the image processing algorithms are second to none.
The only downside is that this and last year mostly Qualcomm and NVIDIA were placing their silicon inside Android handsets. Qualcomm because it has tightly integrated chipsets that include the baseband radios, and Nvidia because it was first to get its foot in the door with Honeycomb tablets and dual-core phones.
It seems that Google has been watching closely the roadmaps of major chipset manufacturers, though, and is preparing to
enter a love affair with Texas Instruments
for its upcoming
Android Ice Cream Sandwich
(ICS) version that will merge the smartphone and tablet experience.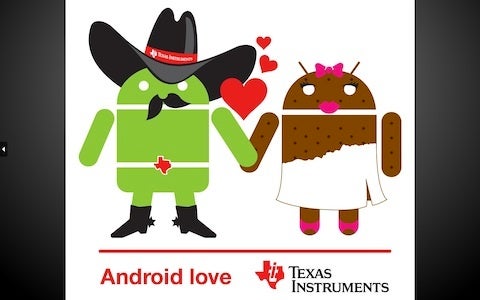 TI representatives have been showing the presentation slide on the right for a while now, claiming it will be used for happenings "in the fall", when ICS is expected to be unveiled.
Now we don't know which exactly of the OMAP chipsets will be the main man in future Android phones and tablets with ICS, but there are several plausible candidates. It won't be the 2GHz dual-core OMAP5 family, since it's not supposed to ship for another year. We'd bet on the 2011 crop, of course - OMAP4430 is already found in the
BlackBerry PlayBook
and
LG Thrill 4G
, so it's old news, but Q3 should see the launch of the dual-core 1.5GHz OMAP4440, which might go into ICS handsets and tablets.
Even better, early next year, when the majority of manufacturers should have flagship handsets with ICS,
Texas Instruments is supposed to ship OMAP4470
, which goes up to 1.8GHz, and, more importantly, features the PowerVR SGX544 GPU, which is insanely fast.
Now, we've heard a few rumors about an
upcoming Samsung phone with 1.8GHz dual-core chipset
, which will, however, be outside of the Galaxy family. We also know that one of the reference designs for the
Nexus Prime given to Google for review is by Samsung
, and, rumor has it, it has won the hearts and minds at Mountain Dew, so that might be it.
Couple this with the fact that these speculations are pointing to late fall release for a monster Samsung/Google handset, plus the Koreans announcement that the next,
2GHz version of its own Exynos silicon
, won't be entering phones until next fall, and we might as well see a
Nexus
with TI chip inside announced by the end of this year, as an ICS poster child.
Either way, if TI has scored a partnership with Google over ICS devices, this will bode very well for its bottomline and stock price, and the company's OMAP family surely deserves it.
via
SlashGear