Google Earth 7.0 comes to Android, 3D maps in tow
6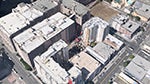 Today is just full of surprises! As if
base-jumping Google Glass demos
and all of the new Android
hardware
announcements (not to mention
Jellybean
) weren't enough, Google is quietly putting out impressiv app updates. As we just reported,
Chrome for Android
left beta moments ago, and now the Google Earth Android app has been updated to 7.0, bringing with it the full 3D cities we saw at Google's
maps event
earlier in the month.
Only a dozen or so cities are available in 3D, so it could be a while until you are able to fly over your own home town. Also, the app is clearly a memory hog in 3D mode – several reviews have indicated crashes occurring, and on a Verizon Galaxy Nexus the app did often slow down as it continued to render higher quality tiles onto the 3D map.
The maps app works with any device that runs Android 2.1 or higher, but for the full 3D views we'd recommend the newest hardware you can lay your hands on. You can head on over to the Play store at the link below. If you're running the app on older hardware, let us know how it works in the comments below (and maybe try a city other than San Francisco…it seems to have more problems than some of the other locations). Other 3D locations include Los Angeles, Rome, Boston, Portland, and San Antonio.
source:
Google Play
via
Engadget