Gee Whiz! T-Mobile's Wal Mart road map includes version 2 of G1 and brand new G2?
7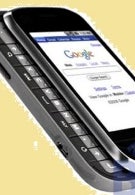 The guys at BGR seem to have gotten their hands on a leaked copy of T-Mobile's road map for Wal Mart and as far as Android developments are concerned, there is a lot going on. The G1 v2 will apparently be named after a mythical creature that some claim to have seen in the wild-the "Bigfoot" or the "Morrison" (like in Jim Morrison). The latter name is the one that appears on the road map for the updated G1 model. Right away, you can see from the photos that the handset has taken it on the chin as the fugly looking appendage to the original version is now gone. The phone is expected to get the attention of Wal Mart shoppers in October for $148 with a two year contract.
T-Mobile G1 Specifications
|
Review
The T-Mobile G2, also known as the Sapphire, is another Android based touchscreen model expected to be on the shelf at Wal Mart this July, selling at a price of $179 with a two year pact. The T-Mobile USA version of this phone features a 5MP camera, an upgrade from the 3.2MP shooter that comes with the overseas version of the device.
T-Mobile G2 Preliminary Specifications
source:
BGR