Analysts argue that with Galaxy S IV Samsung is 'taking its last steps in Apple's shadow'
88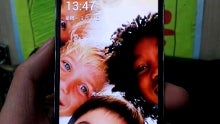 Enterprise innovation pundit Haydn Shaughnessy and Jefferson Wang, an IBB analyst, sat down for a fireside chat on Samsung's future, and reached the conclusion that the company is "taking its last steps in Apple's shadow" with the announcement of the Galaxy S 4 on Thursday.
So far, they argued, most industry players have been trying to mimic Apple's iPhone concept and execution with varying degrees of success, but they are more and more ready to brake the mould, and especially Samsung has shown to possess all the resources to do so - not this year, but with what's coming in 2014.
If the fourth Galaxy S generation turns out to be similar to the
leaks circulating these days
, they might have a point, as it would be a good upgrade from the S III, with better screen and faster processor, but by no means an iconic product.
With Samsung's work on flexible OLED displays, gathered under the
YOUM brand
, and its love affair with
Tizen OS
on the software side of things, the analysts believe 2014 will be when Samsung will try and break away from what the Galaxy line flagships have looked and felt like so far, and start injecting that bit of awesome sauce needed to take the hearts and minds of users by storm.
One thing is certain for this year - the smartphone wars have never been so heated, and the flagship devices have never been so neck-and-neck as this season, so 2013 might really be a tipping point for the industry, after the original iPhone introduced a shattering disruption in the way of doing things with your cell phone. Five years later, it seems that most players have caught up to the disruption, and ready for the next battle round. What do you think?