Galaxy Note II vs Note: should you upgrade?
71
This article may contain personal views and opinion from the author.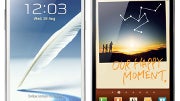 Hey guys, did you hear?
The Galaxy Note II is here
! Well, not literally, that is, but at least we know it'll be released in October, and we can imagine that quite a few people out there are already eying the device as their next smartphone purchase. We are also sure that many of those people considering getting the Note II are current Galaxy Note users, who are enjoying their device and are wondering if it's worth it to upgrade to the new one.
In case you've read our article "
Samsung Galaxy Note II and its S Pen magic: a summary of the new features
", you'd already know that Samsung has improved quite a bit in the Galaxy Note II - from the hardware under the hood, to the screen and the capabilities of the S Pen. Still, if someone comes and tells you that you just need to have these new features, they'll most probably be wrong. Not that most of them aren't cool or useless, but it's debatable if the new stuff is game-changing enough to warrant a new purchase. Let's take a closed look at the more important new features, compare them to what we already have in the original Note, and see just how much of an improvement a user is going to get with the new model!
Bigger, 5.5" Super AMOLED screen
As you've probably heard, Samsung has increased the screen size a bit, going from 5.3" all the way to... 5.5". What's good about this is that it isn't at the expense of the device's dimensions, as those have been preserved almost the same. So there isn't a big difference here, but what about the technology used? Both phones use HD Super AMOLED, although the Note II uses a slightly better pixel arrangement, so it should appear a bit crisper, although we're not sure if the difference will be visible in real-world conditions.
Now, is it worth it to get the Note II because of this 0.2" difference in screen size and possibly slightly better image quality? We'd say no, it's not really substantial enough. The original Note's 5.3" display is still big enough, and it's also quite crisp, so it's still perfectly good in today's realities.
Faster, 1.6GHz quad-core Exynos processor
The quad-core Exynos silicon powering the Note II is another tempting feature. At first sight, the performance between the Note II and original Note probably won't be very different, however, the Note II is practically future-proof at this point, ready to run all the demanding applications that may soon become available in the Play Store.
But should you worry about this now, when your dual-core Exynos 4210 still packs quite a punch and allows you to run everything? Well, not necessarily. You can just stick to your Note for now and make the switch whenever you feel that your mobile lifestyle could use a bit more power.
More RAM (2GB)
The amount of RAM memory that your mobile device has also has a direct effect on performance. Like in every other area, Samsung has put more here, doubling the RAM from 1GB to 2GB. This will be appreciated by users do a lot of multitasking on their Notes. Every hardcore Android user knows that you can use almost a full 1GB of RAM when you're multitasking a number of heavier applications.
On the other hand, people who don't tend to do a number of things at the same time won't really notice a big performance boost. With a bit of smart memory management, you can actually enjoy a seamless user experience with the Note, so it will ultimately be your usage pattern that will decide if you could make a good use of the 2 gigabytes in the new Note.
8MP Camera
Like the previous Note, the Note II comes with an 8MP camera. Not only are the specs almost identical, but Samsung also didn't have anything specific to say about the camera during the announcement keynote, so we guess that we shouldn't expect any significant improvement in this area.
Faster data connection
The Samsung Galaxy Note II will come with faster HSPA+ connection. It will go up to 42.2 Mbit/s on the downlink, compared to the original Note's 21.1 Mbit/s. Please keep in mind that this doesn't mean that you'll get two times faster download speeds with the Note II. There will probably be an improvement, but it won't be that big. All of this applies to the international version only. In the U.S., AT&T's Note has LTE, and T-Mobile's Note supports HSPA+ 42.2 Mbit/s down, so in case Samsung doesn't announce something even better with the U.S. variants of the Note II, there may as well not be any difference in data speeds between the two devices.
Improved, more accurate S Pen
The S Pen is probably the area where Samsung has innovated the most. With many new software features designed to improve the "natural" note-taking experience, among which pressure sensitivity, the Note II undoubtedly shapes up as a much better device for note-taking. If you've been using the Note mainly for this kind of stuff, then the new handset will surely be a smart investment.
Here's a summary of all the new features in the Note II's S Pen:
Android 4.1 Jelly Bean OS
The original Note has finally received Android 4.0 ICS, and while Samsung hasn't specifically announced an update to Jelly Bean, the device was indeed present on a presentation slide showing the company's devices set for a JB update. When this would happen, however, is not yet known. On the other hand, the Note II is coming with Jelly Bean out of the box, which is good, but not necessarily a game-changer if you're stuck with ICS. However, releasing the Note II with Jelly Bean now, means that Samsung will most probably update the device next year when the next Android version comes out, and we can't be so certain that this will also be true for the original Note.
Looked as a whole, the Samsung Galaxy Note II is a nice improvement compared to the first Note, because Samsung has reworked almost all elements of the device. In case you aren't taking hand-written notes like there's no tomorrow, though, we think that you should be perfectly good with your trusty Note for the time being. It will be next year when the need for a more powerful device will become prevalent, and that would be a much better time to purchase a then price-cut Galaxy Note II (or maybe even a Note III, depending on the timing).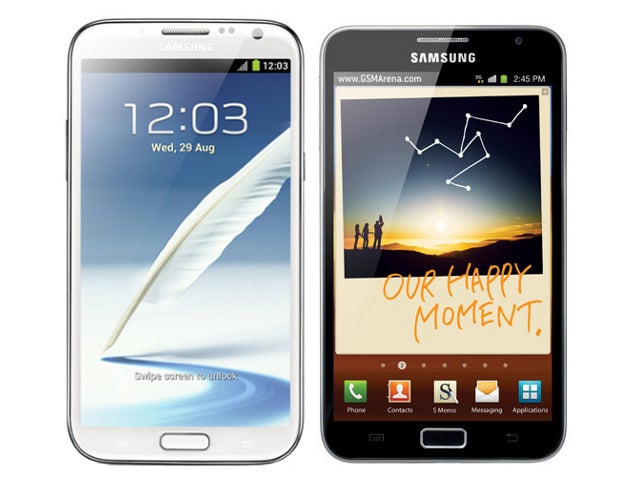 Galaxy Note II (left) next to Galaxy Note (right)
Recommended Stories