Samsung Galaxy Note II and its S Pen magic: a summary of the new features
45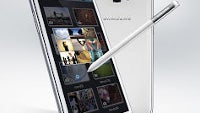 The Samsung Galaxy Note II is not only a state-of-the-art crossover of a phone and a tablet, but also a device for creativity, coming with a brand new built-in S Pen.
The second generation Note is a great device on its own - it packs a monster screen, processor and battery all working to create a smooth and long-lasting Android experience. Best of all, it runs on the latest Android, 4.1 Jelly Bean.
When it comes to software, though, Samsung focused most on what relates to the brand new, slightly thicker and easier to hold S Pen. It's an essential part of the second Galaxy Note. It comes with plenty of new features that come to think about it look very natural but never made it onto Android smartphones yet.
Here's a rundown of all the features of the second big phablet and its magical new S Pen.
Recommended Stories