Galaxy Note 7 unboxing: we're diving right into Samsung's latest productivity phablet
50
The anticipation we experience upon taking home a new smartphone can be a lot like the feeling you might remember as a child, eagerly waiting to tear the wrapping paper off holiday gifts. And why shouldn't it be? While new phones may not come decked-out in fancy bows and ribbons, those tiny boxes can sure contain a lot of exciting new technology within, and from the moment we get our hands on one, it's all we can do to not tear into it there and then.
Now the new phone on the block is
Samsung's Galaxy Note 7
, the new waterproof, iris-scanning, curved-edge-screen follow-up to last year's Galaxy Note 5. With a name that's moving right on past the Galaxy Note 6 in order to get Samsung's flagship branding all on the same page, the Note 7 is the manufacturer's big-screen, productivity-focused alternative to its earlier-year flagship pair of the Galaxy S7 and S7 edge.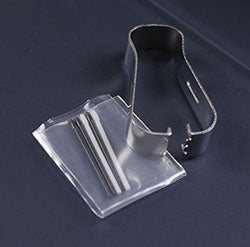 The S Pen picks up a new 0.7mm tip - and here's how you change it
We already saw
Samsung formally introduce the Note 7 earlier this month
, giving the phablet a few weeks' head start on IFA (as has been the company's MO in recent years, moving away from the more crowded late-August/early-September launch season), bringing you a
hands-on look at the new phone
, covering all the
hot new features
, and even getting a head start on showing how the Note 7 stacks up to existing models
like the Note 5
,
Galaxy S7 edge
, and
Apple's iPhone 6s Plus
.
All those previews are finally about to give way to widespread availability, with the Galaxy Note 7 making its retail debut later this week. We don't want to spoil all the fun of taking this flagship home for yourself, but if you think a little preview will only help stoke the fires of excitement, we've got an unboxing for you to check out.
If you've picked up a recent Samsung Galaxy model – and especially the S7 or S7 edge, this packaging is probably ringing a bell or two, as the Note 7 borrows not just its name from these phones, but also shares a lot about the way in which its showing up on carrier shelves.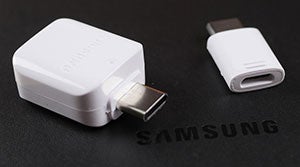 We'll be seeing a lot more USB Type-C on Samsung handsets going forward
The Note 7's packaged with Samsung's familiar adaptive fast charger, but already there's a twist: instead of the familiar micro USB cable, the Note 7 trades up to a new USB Type-C interface – and of course, the charging cable matches.
We see a similar evolution with the USB adapter Samsung includes to help migrate content over from your existing handset, getting its own USB Type-C connector. There's also a new guy in this box, a simple micro USB to USB Type-C adapter that's going to come in handy for all your existing USB accessories – just be sure you don't lose it, as this puppy's seriously tiny.
Samsung also packs in its standard pair of earbuds – doesn't look like anything new here – and since this is a Galaxy Note model we get an S Pen tip-change tool as well as a set of alternate stylus tips. Finally, a SIM tool rounds-out this in-box hardware package, which you'll need to outfit your new Note 7 with a microSD card if you feel like boosting its 64GB of internal storage. And remember, if you pick up your Note 7 before August 28, you can score
a free 256GB microSD card
(or Gear Fit 2 – your choice) to get started strong.
This is just the tip of the Galaxy Note 7 iceberg, so be sure to check out the rest of PhoneArena's coverage for even more hands-on action, reviews, comparisons, and opinions on Samsung's new stylus-equipped flagship.