Galaxy Note 7 vs iPhone 6s Plus: big-screen flagship comparison
46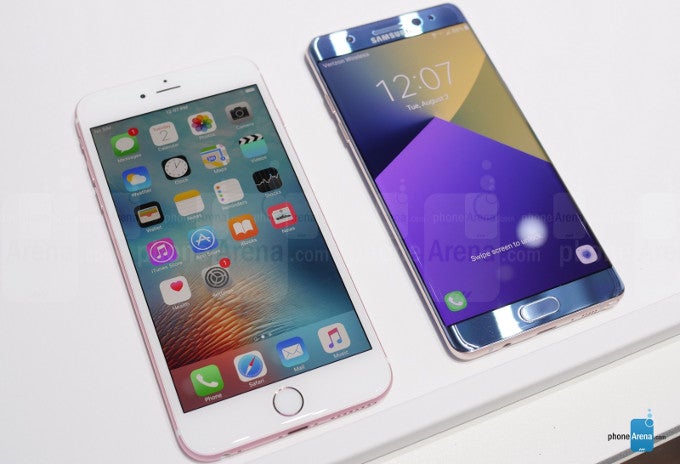 Apple and Samsung have each built enough smartphones by now to know that one-size-fits-all doesn't work, and that there's always going to be a demand for larger-screen models. Samsung may have got the memo a little sooner as the Galaxy Note family enters its sixth generation, while Apple's only much more recently begun producing iPhone Plus handsets. Now with this year's
Galaxy Note 7
making its formal debut, we wanted to take a look at how Samsung's latest phablet compares to Apple's most recent model, going hands-on with both the Note 7 and the
iPhone 6s Plus
.
Despite Apple's model having a 5.5-inch screen, and the Note 7 going with another 5.7-inch display, the Samsung handset is the more compact of the pair, with a face that's both shorter and narrower than the iPhone's. Part of that's due to Samsung's decision to make this year's Note a curved-edge-screen model, drastically reducing bezels. Apple's handset does come in a little thinner, with the iPhone 6s Plus measuring 7.3mm deep compared to the Note 7's 7.9mm, but the Galaxy phone is still significantly lighter, hitting the scales at 169g to Apple's 192g.
While that mass and Apple's use of metal helps the iPhone 6s Plus feel like an exceptionally sturdy handset, the Galaxy Note 7 still has a very comfortable feel to it, with that curved front glass meeting an identically curved back panel to produce a handset that tapers to a narrow edge that fits nicely in the hand.
Even with the phone's compact face, Samsung has to deal with the realities of users interacting with a big 5.7-inch screen, and the implementation of its Edge UX side-swipe gestures offers a friendly one-hand way to get to key apps and things like news updates with ease.
Samsung can't quite hit Apple's 128GB storage option for the iPhone 6s Plus, but the move to 64GB as the base level is a really nice one for a phone that's got a rep as a power-user handset; Apple would do well to ditch its 16GB configuration. Though to be fair, with the return of support for microSD expansion, this year's Note 7 empowers owners to seriously super-charge their storage limits – and a promotion that offers a free 256GB microSD for early orders only sweetens the deal; who doesn't want a 320GB smartphone?
And then there's the S Pen. Each year it seems like Samsung is able to squeeze more and more functionality out of the Note's unique stylus, and this year is no exception, picking up software enhancements like a magnification and translation mode, as well as new hardware that improves pressure sensitivity and delivers a much more real-pen-like stylus tip.
But maybe the coolest thing about the new S Pen is its waterproofing – a feature it shares with the Galaxy Note 7 itself. The pen will still operate while fully submerged, letting users write on the Note's screen underwater. Waterproofing is still one nut Apple's yet to crack, and while this might not be the Note 7 feature you take advantage of on the most regular timetable, it's still a really impressive one to have access to.
One move that brings the Note 7 a little close to the iPhone is this year's switch to USB Type-C, giving the handset a wired interface that now is just as reversible as Apple's. Just like Apple's switch to Lightning, though, that also means new accessories are needed, and Samsung's got a fresh Gear VR headset all ready to take advantage of the Note 7's new port.
We're going to be taking a closer look at how the new Galaxy Note 7 compares with Apple's iPhone 6s Plus as we put Samsung's latest phablet through our full review treatment, but for the time being you can get an early look at how these big-screen handsets stack up in our hands-on gallery: