For those who think BlackBerry or Nokia should switch to Android, here's why it is a bad idea
99+
Every once in a while, we hear from those who think that
Nokia or BlackBerry should drop their current operating systems and use Android
as a replacement. On the surface, it would seem to make sense. Android, after all, is the top smartphone OS globally. With Windows Phone 8 and the new BlackBerry 10 platforms struggling, why not go with the leader?
First of all, we need to remove Nokia and Windows Phone from this equation. Nokia has found a niche with the camera on its high-end Lumia models, and
is marketing it for all its worth
. Additionally, the company is doing well in emerging markets where the low-end
Nokia Lumia 520
has been selling like hotcakes. It is possible that Nokia has turned a corner here and with
the GDR2/Amber update spreading the use of the Nokia Pro Camera app to other models
besides the
Nokia Lumia 925
and
Nokia Lumia 1020
, we could see the Finnish handset manufacturer carry Windows Phone on its back. By this time next year, we could be talking about the big three instead of just iOS and Android.
That leaves BlackBerry. The problem if the Canadian OEM switches to Google's open source OS is the same problem that afflicts HTC, Sony, Motorola and other Android handset manufacturers. The platform is dominated by one company, Samsung. The Korean based company was responsible for nearly 95% of the profits earned by selling Android flavored smartphones in the first quarter. LG took 2.5% of the profits while the remaining 2.7% was split by HTC, Motorola, Sony and others. Think about a group of stranded castaways on an island splitting a single pea left in a can. That is what profitability is like for those remaining Android manufacturers. Should BlackBerry CEO Thorsten Heins stop shipping a device with a proprietary OS and instead battle with a fork for a share of that one pea?
The bottom line is that Nokia's best move is to continue to try to exploit the smartphone photography niche that is has been focusing on. While there will be more challengers coming with the
Sony i1 Honami
and the improved snapper expected on the
next iteration of the Apple iPhone
, Nokia can continue to make its name synonymous with low-light photography. For BlackBerry, the only answer is to sell off the manufacturing part of the company and either keep its enterprise services or sell that off too. This is
a decision that the company's board is apparently grappling over
.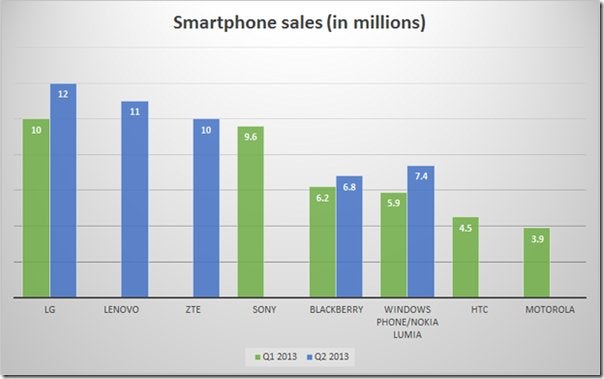 Smartphone sales in the first two quarters of 2013
source:
ZTE
via
BerryReview