First Tegra 4 smartphones and tablets will launch in August at the earliest
18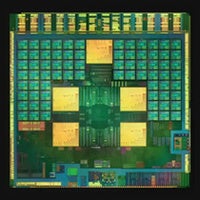 NVIDIA's latest generation mobile SoC, the
Tegra 4
, was unveiled about a month ago at CES 2013. We even saw several devices powered by it, including a
10-inch tablet by Vizio
and
NVIDIA's very own Project Shield gaming console
. That doesn't mean, however, that we'll see any Tegra 4-equipped smartphones or tablets on the market anytime soon. In fact, it will take months for NVIDIA to start shipping the chip to interested manufacturers, which isn't good news.
During a conference call, NVIDIA's CEO Jen-Hsun Huang stated that
the Tegra 4 SoC is expected to start shipping in July
. Therefore, commercial products, such as smartphones or tablets powered by the new quad-core chip, won't be on the market earlier than August of 2013. The company's portable Shield console should be out even later – in September of this year.
By that time, the
next generation of mobile SoCs by Qualcomm
,
which are supposedly faster than the Tegra 4
, may already be on the market. The Snapdragon 600 is scheduled to be commercially available in Q2 of 2013, while the top-of-the-line Snapdragon 800, with its quad-core Krait 400 CPU running at up to 2.3GHz and Adreno 330 graphics will follow soon after. Samsung's newest Exynos chips should be out as well. The rumored Samsung Galaxy S IV, for example, which is expected to be powered by the next-gen silicon, may be unveiled as early as next month.
All of this does not bode well for the future of NVIDIA as a player on the mobile SoC arena. Being late to the market with a next-gen quad-core offering will surely have an impact on its sales figures, especially when its competitor – Qualcomm, has already partnered up with a huge chunk of the major manufacturers. NVIDIA, on the other hand, is said to be having a
hard time finding companies willing to embrace the Tegra 4
, and further delays to launch the chip in a timely manner might lead to catastrophic results.