Qualcomm overhauls its mobile processor lineup with the Snapdragon 200, 400, 600, & 800
36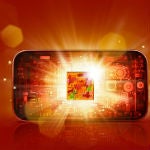 As part of its
press conference
to lead into CES this year, Qualcomm has announced that it is retiring the S1, S2, S3, and S4 series mobile chips, and is ushering a new generation of processors. The new set of chips will still be under the Snapdragon name, but will go by new numbers - 200, 400, 600, and 800 - and promise to offer pretty impressive advances in power and speed. The Snapdragon 200 and 400 series chips will be used for low-end and budget devices, so we'll focus more on the powerhouse chipsets - the Snapdragon 600 and 800.
The Snapdragon 600 is the chip that is essentially the direct upgrade point from the current top-of-the-line Snapdragon S4 Pro, with moving the quad-core Krait CPU to the Krait 300 and the Adreno GPU to the Adreno 320. Qualcomm is claiming that the Snapdragon 600 will offer 40% better performance compared to the S4 Pro, and this series of chipsets is expected to hit the market in Q2 2013.
The top of the line is the Snapdragon 800 which plans to push forward every aspect. The quad-core Krait CPU get bumped to the Krait 400, running upwards of 2.3GHz per core, and supposedly will offer 75% better performance. The Adreno 330 GPU promises double the graphics power. Additionally, the chipset will offer a faster LTE Cat 4 modem, faster 802.11ac Wi-Fi, QFHD video recording, support for display resolutions up to 2560 x 2048, and components tuned for lower power consumption. The Snapdragon 800 series will start hitting devices mid-year, and will be available in both smartphones and tablets.
source: Qualcomm