NVIDIA Shield first look
12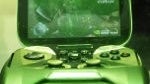 Encased in glass and safely away from the prying fingers of onlookers, the
NVIDIA Shield
was no doubt one of the surprising announcements to come out of CES. Powered by NVIDIA's latest SoC,
the Tegra 4
, it's a beast in every way imaginable – especially for a mobile gaming console. Gamers out there know that Nintendo and Sony currently occupy the space, but with the impending arrival of the NVIDIA Shield, it'll be interesting to see if the newcomer is going to be able to take away some of the market share.
To tell you the truth, the NVIDIA Shield
looks like an XBOX 360 controller
with a giant slab of a display thrown in there. Frankly, it's a cool idea to know that it's a standalone system on its own, but even better is the fact that you can connect it to any high-def television with a quick HDMI connection – thus, turning it into a home console at the same time. Looking through the glass, there are many things that begin to swirl in our head about its longevity.
Obviously, the first thing to come to mind is its real-world battery life – especially when it's sporting a massive
5-inch 720p display
and a speedy new
Tegra 4 chip with 72 GeForce GPU cores
. Control-wise, it seems to adhere to the ergonomics that most gamers would feel comfortable using, since it's packing along the usual set of analog sticks and shoulder triggers. Ultimately though, the biggest question left wondering as we gaze at the thing through the glass is pricing.
Knowing all the stuff it's packing inside its body, it makes us really wonder if an exorbitant price point is already being attached to this one. Of course, early adopters will no doubt have any issues forking over their hard earned cash, but if it fails to reel in enough people into its gaze right from the onset, this might be a quick exit for NVIDIA from the portable console market.