Final build for Nexus One Flash Player 10.1; DROID to get its version "later this summer"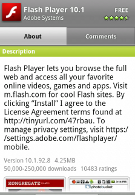 While Verizon has decided to
split the Froyo upgrade
for the Motorola DROID into two parts before the Flash Player can be downloaded, many owners of the Time Magazine 2009 Gadget of The Year have yet to receive the first part of the OTA upgrade, which is supposed to be completed by this Wednesday. As we
reported
, Adobe had posted that the same date is to be the debut of Flash Player 10.1 in the Android Market for the first-gen DROID. Now it seems that this Wednesday will just be another day. A Big Red spokesman said, "The Android 2.2 ("Froyo") upgrade continues to be rolled out in phases to DROID by Motorola users on the Verizon Wireless network. Later this summer users will be able to download Adobe Flash Player 10.1 from the Android Market." The phrase "Later this summer..." sure seems to indicate that if owners of the first-gen DROID want to immediately start viewing embedded videos and animated ads in the browser, their best bet is to upgrade to the DROID 2 which was shipped with Android 2.2 and Flash Player 10.1 pre-installed on the phone.
HTC Nexus One Specifications
|
Review
Motorola DROID Specifications
|
Review
Motorola DROID 2 Specifications
|
Review
source:
AndroidCentral