Video shows off Flash 10.1 on DROID 2; Flash to hit Android Market on August 18th
4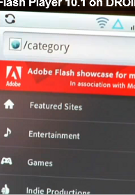 Whether or not it was designed this way on purpose, Verizon now has created a bit more of an incentive for owners of the original Motorola DROID to upgrade to the DROID 2 starting Thursday. As we
reported
, the sequel to the hugely successful handset will be launched on August 12th with Android 2.2 already installed on the device. Right out of the box, the DROID 2 will have Adobe Flash Player 10.1. Owners of the original DROID will have to wait until August 18th to install the Flash Player from the Android Market, according to a leaked photo. Of course, the app will still require Android 2.2 which the DROID is expected to get on August 12th, the same date that the sequel launches. The result is that if you can't wait 6 days to install the Flash Player on your original DROID, you can always upgrade to the DROID 2.
Adobe also has said that Flash Player 10.1 for other Froyo powered devices will be available in a few weeks. Models like the Motorola DROID X, Samsung Galaxy S, Motorola MILESTONE and the HTC Droid Incredible will soon have the necessary app ready for installation in the Android Market. We would expect it to be ready around the same August 18th date that should mark the launch of the software for the DROID.
Motorola DROID 2 Preliminary Specifications
Motorola DROID X Specifications
|
Review
Samsung Galaxy S Specifications
|
Review
(European version)
HTC Droid Incredible Specifications
|
Review
Motorola MILESTONE Specifications
|
Review
source:
Adobe
,
DroidLife
.