Facebook details Android 10 and iOS 13 privacy changes and you might not like it
6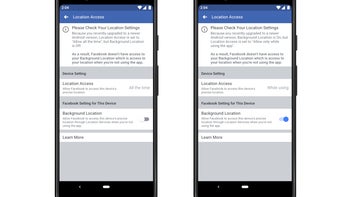 Facebook is making sure that people using either Android or iOS device understand all the changes that new versions of these ecosystems are bringing to end-users. Although Google has already
released Android 10
, the new OS isn't widely available to mobile users yet. However, Apple's iOS 13 is just two weeks away and when the new version hits iPhones and iPads, there will be a lot more people that will benefit from the new privacy changes.
If you're using an Android device, once you update to Android 10, you'll have the option to allow individual apps to access your precise location when you're using Facebook, but even when you're not.
Facebook is aware that this might be confusing for those already using the app's background location setting, so to address the issue, the social company introduced a couple of options. For example, whenever your Android device's location setting is set to "all of the time," but the Facebook background location setting is off, Facebook won't collect your precise location data when you're not using the Facebook app.
Furthermore, Facebook
confirmed
that the background location setting on Android 10 will be discontinued by reminding users to check their device's location settings.
Apple is
expected to release iOS 13
in about two weeks from now and the most important change concerning privacy is probably one that you won't like. Once you install iOS 13, you'll begin receiving notifications about when an app is using your precise location in the background and how many times an app has access that data.
You won't receive just a simple notification, but also a map of the location data an app has received and an explanation of why the app uses that type of location information. Imagine receiving these notifications from all the app that wants to access your location.
It's also worth mentioning that iOS 13 comes with an additional option called "allow once," which lets the app access your phone's precise location information only once. We'll find out soon enough how these privacy changes will affect iOS users and whether or not they're as annoying as we think they are.