Google just launched Android 10, Pixel phones (and a surprise handset) are being updated starting now
38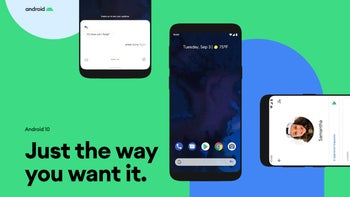 Google today released
Android 10
, the very latest iteration of its mobile operating system. Formerly known as Android Q, Android 10 is the first major version of Google's OS not to have
a dessert name
since Android 1.0 (launched way back in 2008).
Some of the new features of Android 10
have been known since April
, but now Google is sharing a broader list of novelties, as well as details about upgradeable devices. Unsurprisingly, Google's
Pixel
phones are among the first to receive the Android 10 update. All models - from the original Pixel to the
Pixel 3
and
Pixel 3a
- are being updated starting today, September 3.
Another handset that's being updated to Android 10 as of now is the
Essential Phone
. However,
according to Essential
, only select owners of the unlocked model are receiving the update today.
Google mentions that "many [other] partner devices" will be updated to Android 10 by the end of the year, without providing specific device or manufacturer names.

What's new in Android 10? A lot!
Android 10 brings a bevy of improved (as well as totally new) features related to new technologies, privacy and security, design, accessibility, and more. We're highlighting some of the most interesting novelties of Android 10 below.
Native support for foldable devices
. Foldable smartphones have yet to make a significant impact on the market, but the future is (probably) theirs. This is why, starting with Android 10, Google is enhancing multi-window multitasking capabilities, allowing foldable devices to deliver continuity whenever the screen is folded or unfolded, as seen in the video below:
Native support for 5G
. Thanks to this, developers can create apps and games that deliver the best possible experience when your phone is connected to a 5G network.
Gesture navigation
. With Android 10, we're getting a brand new gesture navigation mode that does away with the navigation bar area - thus, apps and games can use the whole screen for a superior, more enthralling user experience.
Dark mode
. Finally! Android 10 has a built-in, system-wide dark theme - perfect for using your phone in low light. Google says that Android 10's dark theme also helps saving battery life.
Sound Amplifier
. Thanks to this feature, Android 10 devices can enhance sound and filter background noise when headphones are plugged in. Thus, you should be able to hear everything more clearly when talking in noisy environments, listening to music, or watching your favorite TV show on the go.
Smart Reply in notifications
. Android 10 can suggest contextual actions in notifications, including smart replies for texts and instant messages, or opening a map when an address shows up. The entire process is done on your device, so you should have no privacy concerns. However, you can opt-out of this if you want.
Live Caption
. A new feature that will automatically caption videos, podcasts, or simple audio messages as they're being played on your phone. Live Caption will be available to Pixel users this fall, coming to other devices at a later date.
And here's even more of what's included in Android 10:
Adaptive battery improvements
Increased user control over privacy settings, location data, and device tracking
Faster security updates
Focus mode - allowing you to temporarily pause select apps
Camera enhancements
Improved Wi-Fi connectivity
Improved app startup times
65 new emojis
We're looking forward to thoroughly testing Android 10 on our Pixel phones (hopefully, we'll have a review published soon). Meanwhile, if you own a Pixel phone and you're knowledgeable enough to manually update it, Google has
Android 10 system images here
. If you just want to find out more about Android 10 in general, you can
visit its official web page
.