Nexus 7 refresh and Android 4.3 now expected in July
35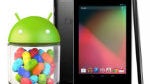 In the leadup to Google I/O, there were two prevailing rumors that people clung to: 1) that Google would announce a new version of Android - 4.3 Jelly Bean, and 2) that the 2nd generation of the Nexus 7 could also be announced. The closer we got, the clearer it was that Google wasn't going to announce new hardware, and focus on software (what with this being a developer's conference and all), but the new speculation has Android 4.3 and the new Nexus 7 coming in July.
The speculation about the Nexus 7 is a bit more firm as it comes from DigiTimes, but DigiTimes doesn't have be most solid track record for accuracy in release dates. In an article about the
2nd generation Surface tablet
, DigiTimes also noted that the 2nd gen Nexus 7 was planned for a July release, and that Google is targeting 6-8 million in sales of the tablet in the second half of 2013.
The rumor about Android 4.3 is less believable, unless the Nexus 7 rumor turns out to be true. The original source of the 4.3 release is that during a Google I/O session someone was quoted as saying, "Android API release 18 will get Bluetooth Smart functionality in 'a couple of months:'" Android 4.2 is API release 17, and we have already heard before that the next version of Android would support Bluetooth Low Energy.
If the Nexus 7 refresh is really planned for July, it would make sense that a new version of Android would come with it, but right now it's all just rumors.