Dual-SIM Nokia 8.3 5G is nearly half off at B&H Video
We may earn a commission if you make a purchase from the links on this page.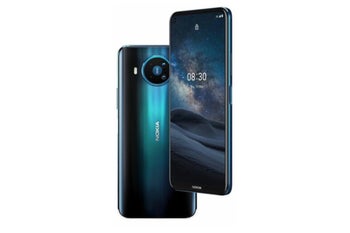 Nokia 8.3
is purely a mid-end Android smartphone that offers those willing to pay for this kind of service
5G
fast data speeds. Unfortunately,
Nokia
8.3 isn't a cheap device and some would rather go for a flagship instead or another, much cheaper mid-range phone with 5G support.
The good news is BH& Video has slashed
Nokia 8
.3's price by a lot, so if you're looking for a 5G smartphone but can't afford to pay for a top-tier model, you might want to take a look at this deal that's said to last until January 31.
So, if you're considering the Nokia 8.3, you'll be happy to know that the smartphone is now available for purchase for just $380, which is $320 off the suggested retail price. Amazon offers a discount on the Nokia 8.3 too, it's just that you'll still have to pay $580 to get one. It's important to mention that B&H Video is selling the unlocked, North American version, so you'll be able to use it on any network across the US.
Specs-wise, as we've said earlier, Nokia 8.3 is a standard mid-range smartphone powered by Android 10. It comes equipped with a Qualcomm Snapdragon 765G processor, 8GB RAM, and 128GB expandable storage. Also, the smartphone sports a massive 6.81-inch IPS LCD FHD+ display, a quad camera setup (64MP+12MP+2MP+2MP), a secondary 24MP selfie camera with
Zeiss optics
, and a huge 4,500 mAh battery with fast charging (18W).