Data suggests that Verizon is selling twice as many Nokia Lumia 928 units than BlackBerry Z10 models
32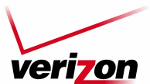 Considering the iOS/Android duopoly, the best that Windows Phone and BlackBerry can hope for is
third place
in the battle for mobile supremacy. The recent launch of the Nokia Lumia 928 by Verizon has proven to be a successful one for the carrier. As we told you on Saturday, based on information gleaned by Alan Mendelevich at mobile ad network Adduplex, the introduction of the exclusive
Nokia Lumia 928
has made
Big Red the top Windows Phone 8 retailer
in the states.
The battle for third place may seem like a loser's fight except that it does make a big difference in determining which phones will be backed by carriers, most willing to heavily promote three platforms. Developers are more willing to write for the third most popular platform than the fourth most popular, so this isn't a frivolous battle no matter how you slice it.
While Windows Phone 8 has been doing well for Verizon, the real question is how the Nokia Lumia 928 has been doing against the
BlackBerry Z10
. And while it isn't a perfect representation of sales data, we can look at the number of reviews left on Verizon's web site as a quick and dirty way to see how popular the two models are. After all, the reviews are, by definition, written by those who own the phone. And while the BlackBerry Z10 has more reviews than the Nokia Lumia 928 by a score of 197 to 143, we need to take into consideration that the all-touch BlackBerry Z10 has been on the market for longer than the Nokia model.
Taking the raw score and dividing by the number of days it has been on the market reveals that in the 79 days that the first BlackBerry 10 model has been available from Verizon, it averaged 2.5 reviews a day. The Nokia Lumia 928 has averaged
6 reviews
a day for the 24 days it has been available from Big Red. The reviews for the Nokia model were also higher at 4.9 stars versus 4.4 stars for the Z10. Of course, the real test will come when the QWERTY equipped
BlackBerry Q10
launches at Verizon stores on Monday
(it has been available online since late last week). Most BlackBerry fans tend to prefer the physical BlackBerry keyboard on the model over the virtual keyboard on the BlackBerry Z10.
As of Sunday morning, 98% of those who reviewed the Nokia Lumia 928 on Verizon's website said that they would recommend the device vs. 88% who would recommend the BlackBerry Z10.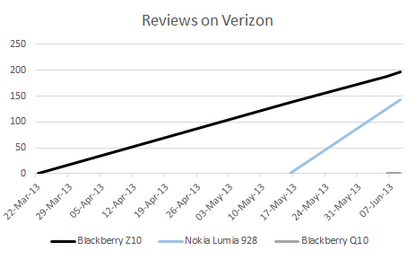 Based on reviews, the Nokia Lumia 928 swamos the BlackBerry Z10 at Verizon
source: Verizon (
1
), (
2
) via
WMPoweruser